Another rift between Baroud and Rifi, report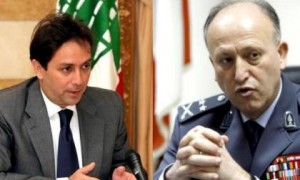 Another dispute is in the making between Lebanon's caretaker minister of interior Ziad Baroud and Internal Security forces chief General Ashraf Rifi.
Baroud told new TV on Wednesday that he has given Rifi 24 hours to clarify the circumstances of the visit made by ISF Intelligence Bureau chief Col. Wissam al-Hassan to Egypt.
Baroud threatened to take serious measures against Rifi over Hassan's visit if he is not satisfied with the response.
Future TV reported that Hassan's visit was approved long time ago and questioned Baroud's motive
This is not the first rift between Baroud and Rifi.
Last December Baroud took disciplinary action against Rifi after the latter responded to FPM MP Nabil Nicolas' inquiry regarding arrested retired Brigadier General Fayez Karam.
"I am the only person authorized to respond to a question by an MP," Baroud said
Karam, a Free Patriotic Movement official, was arrested by the ISF – Information Branch last August on suspicion of collaborating with Israel.
Rifi in a statement questioned last December the motives behind FPM criticisms, saying that many others were detained on similar charges but the ISF was not criticized for arresting them, as in Karam's case.
"Some politicians launched a campaign against the ISF – Information Branch regarding the arrests of several Israeli collaborators, and tried to defend Karam by questioning the legitimacy of the Information Branch," Rifi said in the ISF statement
"All ISF officers are carrying out their tasks under the supervision of Public Prosecutions and Karam confessed that he was collaborating with Israel in the past years," the statement added.