Libyan leader Colonel Muammar Gaddafi's forces have intensified their campaign to wrest the western city of Zawiya from rebel control.
A fierce battle has raged all day, with government tanks pounding the main square, witnesses say.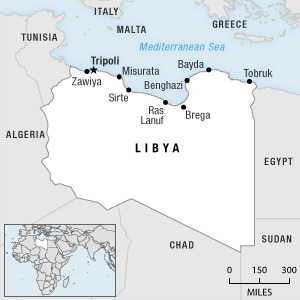 Meanwhile, Col Gaddafi dispatched a top official to Egypt, and other envoys, reportedly, to Brussels and Portugal.
The government has offered a reward for the capture of rebel leader Mustafa Abdel Jalil, the ex-justice minister.
The outcome of the revolt that began in mid-February to end the Libyan leader's 41 years in power appears to be hanging in the balance, say correspondents.
The BBC's Wyre Davies in Tripoli says the army seems to be hammering home its advantage over poorly equipped and badly organised rebel forces.
Rebel retreat
Zawiya, 50km (30 miles) from the capital Tripoli, has been battered over four days by government artillery, tanks and snipers.
One insurgent told Reuters news agency that government forces captured the main square on Wednesday, although the rebels were planning a counter- attack.
A doctor in the city told the news agency that at least 40 people had been killed in the day's fighting.
One resident told the BBC that buildings had collapsed and people were trying to flee.
State TV reported that government forces were in full control of Zawiya, and showed pictures of what it said were residents staging a pro-Gaddafi demonstration in the city.
A Libyan army captain said: "Security is at about 95%. There are some rats that could be lying in some alleys and inside some flats. We are capturing them one group after the other."
With journalists denied access to frontline areas, the rival claims are difficult to verify.
Meanwhile, rebels retreated on the eastern front around the Mediterranean oil port of Ras Lanuf, amid heavy shelling and continued air strikes by government forces.
Huge explosions rocked oil storage tanks in Ras Lanuf on Wednesday afternoon, sending a tower of black smoke billowing into the sky.
There were further major blasts in the nearby town of Sidra and reports that an oil pipeline had been blown up, although government and rebel forces blamed each other.
Col Gaddafi earlier took to the airwaves again to warn his people would take up arms if the international community imposed a no-fly zone, as the rebels have urged.
In an interview with Turkish TV, he said a no-fly zone would show the true intention was to seize Libya's oil. BBC