Obama faces tough choices over Libya, analysis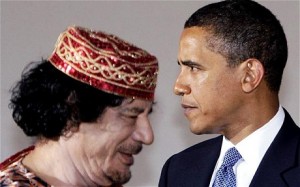 US President Barack Obama may have told Muammar Gaddafi his time is up but the real question is whether U.S. rhetoric will be matched by action forceful enough to get the Libyan leader to relinquish power.
That looks doubtful for now as Obama faces "damned if he does, damned if he doesn't" options that range from imposing a no-fly zone over Libya to arming the rebels. None is guaranteed to push out Gaddafi or ensure stability in North Africa.
Aides insist Obama's cautious approach is helping marshal international opposition to Gaddafi, who has launched fierce counterattacks on opponents seeking to end his 41-year rule.
Obama's critics, mostly Republican politicians and conservative pundits, accuse him of failing to lead and say he could miss a chance to oust an entrenched dictator who has been a thorn in Washington's side for decades.
"Whatever you do, the risks are great," said Stephen Grand, an expert at the Brookings Institution think tank in Washington. "But you can't just walk into a civil war and expect to stop it … Still, doing nothing is not a viable alternative."
Accounts of ragtag rebels and civilians being assaulted by Gaddafi's loyalists, along with fears of a humanitarian crisis, make for compelling reasons for Obama to act — not least because the last remaining superpower could be denounced for staying on the sidelines.
But the costs of any major intervention are high for a president trying to wind down wars in two Muslim countries while confronting the domestic priorities of jobs and economic recovery that are crucial to his 2012 re-election chances.
That could be reason enough to avoid any hasty response.
Obama must also be mindful of inflaming tensions in the oil-producing Middle East or undermining relations with Europe, the Arab world and the United Nations. How events in Libya play out have implications for the global economy, U.S. prestige and Obama's own foreign policy legacy.
TOUGH WORDS, LIMITED ACTION
When the uprising erupted last month and Gaddafi responded with violence, Obama was reluctant to call outright for his ouster until U.S. citizens were safely evacuated from Libya.
Obama and his top aides have since spoken out strongly for Gaddafi to step down — coupling that with sanctions and an asset freeze — and have started talking openly about some of the specific military options under consideration.
But with the White House still crafting its strategy, the risk is that a defiant Gaddafi will consolidate his grip and hunker down for a protracted civil war.
"The president made a big mistake when he said 'Gaddafi must go' when he had no idea how to make him go," said Elliott Abrams, a senior fellow at the Council on Foreign Relations and former deputy national security advisor under Obama's Republican predecessor, George W. Bush. "That depreciates the value of an American leader's words."
Obama has come under growing pressure from some lawmakers, including fellow Democrats, for a more aggressive response amid a debate on U.S. intervention — a topic that traditionally cuts across party lines.
Obama's spokesman Jay Carney spoke on Monday of a sense of urgency but said: "We need to not get ahead of ourselves in terms of the options we're pursuing."
The administration has made clear it will not be rushed into decisions that could draw the U.S. military, already working to extricate itself from Iraq and still bogged down in Afghanistan, into a new war that could fuel anti-Americanism.
The dilemma is that the longer it takes to decide on a course of action with Washington's allies, the more blood could be spilled in Libya and the more Obama could face criticism for acting too slowly to avert a humanitarian disaster.
At the same time, failure to stem the turmoil could sustain upward pressure on oil prices already driven higher as upheaval sweeps the broader Middle East.
MILITARY OPTIONS
Even with Washington's assertion that all options remain on the table, Obama's room to maneuver appears limited.
An idea pushed by some lawmakers is a "no-fly" zone — patrolled by Western warplanes in the style used in Yugoslavia in the 1990s and against Saddam Hussein in Iraq — to stop Gaddafi's aircraft from targeting rebels and their supporters.
But even as Britain and France seek a no-fly resolution at the United Nations, U.S. officials like Defense Secretary Robert Gates have expressed misgivings. Russia and China could use their U.N. veto power to block the measure.
Sending ground troops is also an option but is considered unfeasible for a president who took office vowing to end the war in Iraq and who wants to avoid feeding into al Qaeda's narrative of Western powers grabbing Arab oil.
The U.S. hope is still that a popular democratic movement will coalesce in Libya as it did to topple rulers in Egypt and Tunisia, even though Gaddafi has struck back more violently.
U.S. military planners will also be wary because of searing memories of how a humanitarian mission in Somalia went wrong during the Clinton era, with soldiers' bodies dragged through the streets after a firefight.
There have been mixed messages about the logistics and legality of arming the rebels but intelligence officials say so little is known about the opposition groups and their leaders that it would be unwise, for now, to send them weapons.
Obama also has made clear he will not act militarily without broad international support. Since taking office in early 2009, he has signaled a break with what was perceived as Bush's go-it-alone approach in the 2003 invasion of Iraq.
Critics say a failure to deal decisively with Libya could stain Obama's record, especially if Gaddafi prolongs his rule in a bloody stalemate.
"Prudence is one thing," said Michael Singh, an expert at the Washington Institute for Near East Studies and a Bush-era Middle East adviser. "But the administration can't afford to be left behind by events."