13 jailed Syrian activists are staging a hunger strike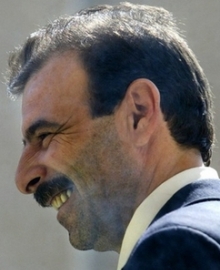 Thirteen jailed Syrian human rights activists, including lawyers Haytham Maleh and Anwar Bunni, are staging a hunger strike at Adra prison, near Damascus, the Syrian Observatory of Human Rights announced Monday.
"We have launched a hunger strike because we demand an end to political detention and injustice, as well as the recovery of stolen civil and political rights," said the activists in a joint statement published by the rights monitor.
They denounced "Syria's state of emergency decreed 48 years ago by an unelected military authority" and "the ubiquitous security services that embody political despotism and use the court to break freedom of opinion and expression punishing their opponents through arbitrary accusations and judgments. "
The detained activists, among them lawyers and writers, said the "Syrian people suffer tremendously under a despotic and corrupt authority."
"We have also paid dearly for the cause of law and freedom, but it is time to cancel this state of oppression and persecution at a time the winds of change are sweeping the Arab world."
"Rights cannot be legitimate in Egypt and Tunisia but illegitimate in Syria."
Signatories also included Habib Saleh, Mustafa Jomaa, Ali Abdullah, Mahmud Barish, Kamal Labouani, Mohamed Sayed Omar, Mashal Tamo, Khalaf Jarbou, Saadun Sheikho, Ismail Abdi, who has joint German-Syrian nationality, and Kamal Sheikho, a blogger on hunger strike since February 16.
The Syrian rights watchdog expressed its "complete solidarity" with the protesting detainees and called on the authorities to free them "immediately."
The organization also called for a "modern law to govern political parties and civil society associations in Syria," and the "authorization of the unconditional return of Syrians living abroad who fear being arrested if they come back to the country."
Now Lebanon