Assad pardons criminals, jailed activists go on hunger strike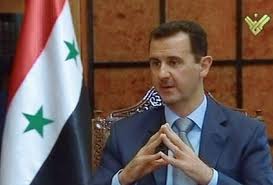 Syrian President Bashar al-Assad on Monday pardoned criminals serving time in jail for minor crimes as well as some elderly and ill prisoners, official Syrian news agency Sana reported.
The pardon comes on the eve of the 48th anniversary of Syria's ruling Baath Party coming to power on March 8, 1963.
The presidential decree, which contains various caveats, "applies to those who committed minor offenses
"The decree does not apply to political detainees," said Abdel Karim Rehaoui, president of the Syrian Human Rights League, who estimates that several thousand people could be included in the pardon.
Rehaoui expressed hope that this "positive step is followed soon by a general amnesty including political detainees and prisoners of conscience" in Syria's jails.
Thirteen jailed Syrian human rights activists, including lawyers Haytham Maleh and Anwar Bunni, are staging a hunger strike at Adra prison, near Damascus, the Syrian Observatory of Human Rights announced Monday.
"We have launched a hunger strike because we demand an end to political detention and injustice, as well as the recovery of stolen civil and political rights," said the activists in a joint statement published by the rights monitor.
Khaleej Times, agencies