Wahab sides with Aoun against Lebanon president
Former minister Wiam Wahhab, a staunch ally of Syria criticized Lebanese president Michel Suleiman on Saturday.
He accused him of delaying the formation of the cabinet and of committing several mistakes.
Wahab on the other hand praised Free patriotic Movement leader MP Michel Aoun and said the FPM leader will succeed in getting what he wants.
Wahab 's comment come after Aoun has launched several attacks against the president ever since Nagib Mikati was appointed as PM Designate to form and lead the new cabinet.
Wahab and Aoun usually represent the views of Hezbollah .
"The goal of the March 8 coalition is not to control the cabinet, but also the presidency. Hezbollah wants Suleiman to become its subject through the attack being launched by Aoun on the president ," Lebanon First bloc MP Atef Majdalani told the Voice of Lebanon (100.5) radio station on Feb 24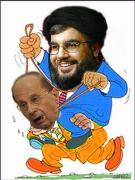 Lebanese Forces bloc MP Joseph Maalouf said on Feb 24 that Aoun's views are "a cover up for Hezbollah."
The Cabinet formation is reportedly being delayed due to a dispute between Aoun and Suleiman over the Interior Ministry portfolio. Aoun said last month that Suleiman has no right to shares in the cabinet and should form his own political party if he wants to be involved in politics.
" The issue of the president's share (in cabinet) is a farce that is not subject to any constitutional provisions or the criteria of popular support, and personally I won't give Suleiman any portfolio as he hasn't been a consensual president."
This is not the first time Wahab attacks the president . About a year ago ( March 17, 2010) Wahab attacked Suleiman and called on him to resign for allegedly failing to govern the country.
He made the statement following talks with Aoun in Rabiyeh. Wahab also said the president should resign "because after two years of rule we feel like we are in the last days of the presidency." He added " "The consensus president in Lebanon is not successful,"
The Iranian- and Syrian-backed Hezbollah brought down PM Saad Hariri's government on January 12 over the Special Tribunal for Lebanon's imminent indictment which is widely expected to implicate Hezbollah members in the assassination of former PM Rafik Hariri in 2005 .
Sfeir said during the same December MTV interview : "We hope no Lebanese were involved in Hariri's murder , but if those involved are Lebanese, every criminal must face punishment."
Mikati, who was backed by Hezbollah and its March 8 allies including MP Walid Jumblatt and Mohammad Safadi, was appointed on January 25 by president Michel Suleiman as PM-designate to form and head the next cabinet , giving Hezbollah and its allies increased leverage in the country and provoking widespread protest.
Mikati, Jumblatt, Safadi and their blocs were all elected on March 14 electoral lists during the 2009 parliamentary elections