Serbia, arms dealer to Libya, silent on rebellion
As Libya churned with popular rebellion, Serbia's ex-president flew to Tripoli to arrange an interview with Moammar Gadhafi for a Serbian TV channel — giving the Libyan leader a platform to bluster about his grip on power.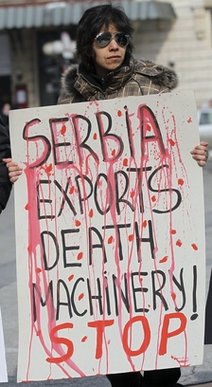 "The Libyan people are fully behind me," Gadhafi defiantly told Pink TV in a telephone interview.
The gesture of support for Gadhafi was not officially endorsed by the Serbian government. But it has been criticized at home for failing to join worldwide condemnation of Gadhafi's bloody crackdown against the uprising.
A possible reason for the silence: hundreds of millions of dollars worth of military and construction contracts. Serbia's cozy ties with Libya sit ill with its recent efforts to rehabilitate its image after the Balkan wars, in particular by participating in peace keeping missions.
It's almost certain that some of the ammunition fired by Gadhafi's troops against pro-democracy protesters in Libya was made in Serbia, and that some of the air force pilots who targeted rebel-held positions were trained by Serbs.
Western nations like Britain and Italy have armed and cooperated with Gadhafi's regime, but the issue is particularly sensitive for Serbia as it tries to join the European Union and possibly NATO and shed its image as a pariah nation.
"Serbia and former Yugoslavia had exposed themselves to a political risk with the defense deals with controversial regimes like in Libya," said military analyst Sasa Radic.
During the 1970s and 80s Yugoslavia's defense industry struck several export deals with nations in Asia, North Africa, and the Middle East, including Saddam Hussein's Iraq, which made the Balkan country one of the top 10 arms exporters in the world.
The trade collapsed when Yugoslavia itself disintegrated in the 1990s. But it has been picking up in recent years, particularly in Serbia, which retains the Balkans' largest defense industry.
A liberal Serb group has demanded that Belgrade stop arming the Gadhafi regime, even as Serbia's defense ministry claims it has suspended all ties with the Libyan military since the uprising began.
And while the government supplied arms Gadhafi likely used against his people, the leaders of a youth movement that toppled Serb dictator Slobodan Milosevic in 2000 have supplied Middle East protesters with inspiration, and in some cases advice.
Veterans of Serbia's Otpor movement went on to create an organization that trains would-be rebels in the art of peaceful revolution. They trained one of the main youth groups at the center of Egypt's revolution, and believe that influenced the Libyan rebellion.
"It is likely that some Libyan youth groups got the idea on how to oust Gadhafi from the Egyptian activists whom we have trained," said former Otpor leader Srdja Popovic.
Serbia's Defense Ministry also rejected Arab media reports that Serb "mercenaries" had piloted Libyan jets that bombed protesters in the eastern city of Benghazi.
Gadhafi said in his interview with Pink TV that "the Arab media tried to bribe (the Serbs) to say that they bombed the civilians."
The Serbian military has been working hard in recent years to improve its tarnished image.
During the Balkan wars in the 1990s, scores of Serbs were found guilty of war crimes and crimes against humanity. But in recent years, the army's reformist leadership has sought to change that image by offering to participate in international peacekeeping operations in Africa, the Middle East and Asia.
But that's an uneasy fit with Serbia's close dealings with Libya.
Serbian companies recently reached tentative deals to build, equip and staff a military hospital in Libya, as well as to continue training Libyan air force pilots and to overhaul and maintain some 120 warplanes sold by the former Yugoslavia in the 1970s and 80s.
"The former Yugoslavia and Serbia have a long history of cooperation with Gadhafi's military, of which selling the know-how played a major role," Radic said. AP