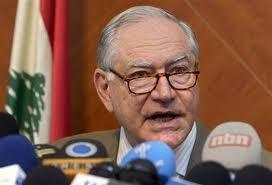 Caretaker Justice Minister Ibrahim Najjar told LBC on Saturday the the refusal to cooperate with the Special Tribunal for Lebanon "might cause Lebanon international legal responsibilities adding that Lebanon has the right to revise STL requests, but has "no right to hamper the judicial process ."
"The protocol signed with the STL force Lebanon to 'expeditiously ' cooperate with investigation requests," Najjar also said adding :"The law applicable law according to the protocol is the Lebanese criminal law; this is the cooperation limit."
Najjar's comment come after 4 ministers refused to cooperate with STL.
March 14 general-secretariat on Wednesday "strongly condemned" the four caretaker ministers for refusing to cooperate with the Special Tribunal for Lebanon (STL) prosecutor Daniel Bellemare in providing information and documents.
If caretaker Ministers Charbel Nahhas, Gebran Bassil, Ziad Baroud and Ghazi Aridi remain adamant in not cooperating with Prosecutor Daniel Bellemare, they and their party backers would have to face the Lebanese public which is calling for holding accountable ex-Premier Rafik Hariri's assassins, said the general-secretariat following its weekly meeting.
Nahhas and Bassil represent MP Michel Aoun's Free Patriotic Movement ( a key ally of Hezbollah) in the outgoing cabinet , while Baroud represents president Michel Suleiman and Aridi represents MP Walid Jumblatt a former staunch supporter of STL who defected last January to March 8 alliance during the selection of a new prime minister.
Nahhas had reportedly told Speaker Nabih Berri that he had stopped meeting the demands of the U.N. commission investigating Hariri's assassination since last year's speech by Hezbollah leader Sayyed Hassan Nasrallah in which he called on the Lebanese government and officials to boycott the STL and not cooperate with the commission.
Hezbollah MP Mohammad Raad condemned the STL requests on Friday and said that cooperation with the STL must be frozen until the next cabinet addresses the matter.
Raad called on supporters not to respond to Bellemare's requests.
Raad asked: Who can give us guarantees that the data requested by Bellemare would not be delivered to Israeli intelligence services?
Raad added :" Providing such information to Bellemare is in violation of the people's privacy.
and contradict with the protocol signed between Lebanon and the court and violate Lebanese sovereignty"