Sayegh: Hezbollah arms prevent development of democratic life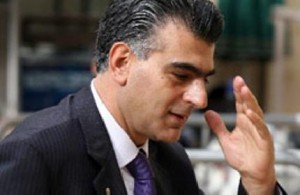 Minister of Social Affairs Selim Sayegh told MTV on Saturday that the illegal arms are a tool that prevents the development of democratic life in Lebanon. A reference to Hezbollah arms
He added: "Saving the republic is the issue today"
Sayegh said that the" issue of Hezbollah arms cannot be dealt with through dialogue because these arms are being used as a tool to prevent the development of democratic life." This is a possible reference to the alleged threats against MP Walid Jumblatt that resulted in the tilting the political balance in favor of Hezbollah.
Sayegh said "We are not heading to a civil war, but we are extending our hand to Hezbollah to address issues seriously in order to accomplish a true partnership."
The Iranian- and Syrian-backed Hezbollah brought down PM Saad Hariri's government on January 12 over the Special Tribunal for Lebanon's imminent indictment which is widely expected to implicate Hezbollah members in the assassination of former PM Rafik Hariri in 2005 .
Nagib Mikati, who was backed by Hezbollah and its March 8 allies including MP Walid Jumblatt and Mohammad Safadi, was appointed on January 25 by president Michel Suleiman as PM-designate to form and head the next cabinet , giving Hezbollah and its allies increased leverage in the country and provoking widespread protest.
Mikati, Jumblatt, Safadi and their blocs were elected on March 14 electoral lists during the 2009 parliamentary elections
Caretaker PM Hariri vowed on Monday to fight the use of non-state weapons in Lebanon in a "peaceful and democratic way."
Last Sunday March 14 parties met at the Bristol Hotel in Beirut , following which it issued a statement announcing that they reject participation in Mikati's government.
Hariri vowed on Monday to fight the use of non-state weapons in Lebanon in a "peaceful and democratic way."