Oman's ruler replaces two top ministers amid protests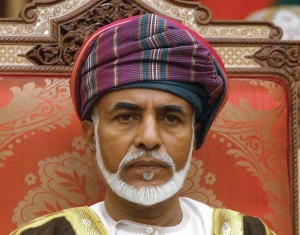 Oman's ruler Sultan Qaboos bin Said replaced two key ministers Saturday in response to protests across the Gulf Arab nation calling for political reforms and jobs.
General Sultan bin Mohammed al-Naamani was appointed Minister of the palace office, which controls the country's security, and Khalid bin Hilal al-Busaidy becomes the new minister of the diwan of the royal court, Oman's state news agency said citing royal decrees.
The appointments replace General Ali bin Majid and Ali bin Hamoud, the statement said.
About 200 protesters gathered in the capital Muscat on Saturday at the headquarters of the Shura Council, a quasi-parliamentary advisory body, for a seventh consecutive day, while some 150 government supporters waved Omani flags from their cars.
There were smaller protests in Salalah, the eastern coastal town of Sur where Oman's liquefied natural gas export facilities are based, and Sohar where medical sources said six people were killed in clashes with security forces Sunday.
Unrest in the normally tranquil oil-producing state, ruled by Sultan Qaboos for four decades, follows a wave of pro-democracy protests across the Arab world.
"It is clear our demands are being listened to and this is part of the reforms of clearing old ministers and bring in new blood," Shaikh Soud al-Amri, a protester in Muscat, told Reuters, referring to the new ministerial appointments.
Sultan Qaboos tried to ease tensions Sunday by promising 50,000 new jobs, unemployment benefits of $390 a month and to study widening the power of the Shura Council.
Police fired on stone-throwing demonstrators Sohar last Sunday after failing to scatter them with batons and tear gas. Medical sources said six people were killed and at least 20 were wounded, but Oman's health minister said only one person died.
Sultan Qaboos, who exercises absolute power in a country where political parties banned, reshuffled his cabinet last week in response to the protests.
Reuters