Libya rebels repel Gaddafi forces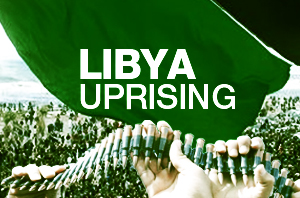 Anti-government fighters in the western Libyan town of Az Zawiyah have pushed back forces loyal to Muammar Gaddafi, the Libyan president, following a fierce assault on the town.
Gaddafi's forces on Saturday encircled Az Zawiyah, which lies just 50km west of the capital Tripoli, manning checkpoints about 3km from the centre, according to reports.
Fighters in the town said a another counter-attack could come soon, and by the afternoon there were reports that government forces were again shelling the town.
"There is news that the Gaddafi security forces are gathering at the outside of the city and we are bracing ourselves for another attack," Hamdi, a doctor inside Az Zawiya, told Al Jazeera.
More than 30 people were killed and as many as 200 people were said to have been wounded in the fighting that drove government forces out of the town.
Youssef Shagan, a spokesman for the fighters in the town, said that Gaddafi's forces had entered Az Zawiyah at 6am (04:00 GMT) with hundreds of soldier, along with tanks and armoured vehicles.
Gaddafi's forces had broken through defences into Martyrs' Square, in the heart of the town, but hours later were pushed back.
"Our people fought back … We have won for now and civilians are gathering in the square," Shagan said.
National council
Elsewhere, following heavy fighting on Friday, anti-government forces were said to be in control of Ras Lanuf, a pipeline hub on the Mediterranean coast that houses a major refinery and petrochemical complex, according to reports form the AFP news agency.
The nearby town of Bin Jawad was also under anti-government control on Saturday, sources told Al Jazeera.
In Benghazi, Libya's second city which is in the hands of anti-government forces, the self-declared opposition national council, held their first meeting on Saturday.
"The national council's first formal meeting is starting this morning," Mustafa Gheriani, a spokesman for group, said.
The 30-member body is headed by Mustafa Abdel Jalil, a former justice minister who defected from Gaddafi's camp after protests against the Libyan leader's rule erupted two weeks ago. The meeting was held in secret.
"It's a safety issue," Gheriani said. "This guy [Gadaffi] still assassinates people."
'Call to arms'
Tony Birtley, Al Jazeera's correspondent reporting from Benghazi, said that resistance to Gadaffi's rule was strengthening.
"I think they're coming to the realisation that the outcome is in their own hands. They did think that Gaddafi would leave peacefully, they then thought that the international community would take steps and force him out," he said.
"I think the pendulum has swung now and they believe it is in their own hands.
"They are answering the call to arms, they are coming from all over eastern Libya, bringing their weapons, getting whatever training they can and moving on."
Two blasts at an arms dump on the outskirts of Benghazi left more than 30 people dead, according to medical sources in the city.
The reasons for the blast, which occurred on Friday, were not immediately known.
So far, Gaddafi has had little success in taking back rebel-held territory, with the entire eastern half of the country and some cities near the capital outside of his control.
Members of his government, diplomats, soldiers and some of his closest allies have renounced their allegiance, leaving him increasingly isolated, but it is unclear whether anti-government fighters will be able to push forward.
"The situation in the east of the country is really a stalemate, with anti-Gaddafi forces either unable or unwilling to advance further to the west and to try to take the fight closer to Gaddafi's strongholds like Sirte and Tripoli," Jacky Rowland, Al Jazeera's correspondent in Ajdabiya, said.
On Friday, pro-Gaddafi forces fired tear gas to disperse at least 1,000 people in Tripoli's Tajoura district who were holding a protest against the Libyan leader.
Migrant workers flee
A report from UN's Office for the Coordination of Humanitarian Affairs says that more than 191,000 people are fleeing the violence in Libya.
The report, which cites figures from the International Organisation for Migration says that many of those feeling are immigrant workers heading for Libya's border with neighbouring Tunisia.
Speaking to Al Jazeera's David Frost, Antonio Guterres, the UN high commissioner for refugees, warned that many others, mainly African workers trapped in Libya, were at risk.
"There are hundreds of thousands of African workers in Libya, and very few have shown up at the borders," he said.
"We have received phone calls from people in a desperate situation, afraid of leaving their homes. It's the situation of
these African communities inside Libya that now corresponds to our biggest concern."
Andrew Mitchell, Britain's minister for international development, called for Libya to allow international access to the refugees.
"We call immediately for unfettered access into Libya for the international community," he said in an interview with Al Jazeera. "It has been cut of by Colonel Gaddafi and we call for it immediately to be reopened."
'Threat to peace'
.
On the diplomatic front, Mussa Kussa, the Libyan foreign minister, said in a letter to the UN security council that "a modicum" of force had been used against protesters in Libya.
He demanded that UN sanctions imposed against the Gaddafi, over his bloody crackdown on protesters, be suspended "until such time as the truth is established".
The letter was the first official reaction communicated to the UN since the sanctions were unanimously passed by the council on February 26.
Human rights groups say about 6,000 people have been killed since protests against Gaddafi erupted on February 15. The UN says that more than 1,000 have died.
Western powers say they are studying a no-fly zone against Libya to prevent attacks on civilians.
But diplomats say that no official request for such action has been made to the UN Security Council.
Kussa said in his letter that military action against Libya would be "inconsistent" with the UN charter and international law and "compromise a threat to peace and security in the region and indeed the whole world".
Gaddafi also appointed Ali Abdussalam Treki, a senior Libyan diplomat, to be his country's new envoy to the UN after the entire Libyan delegation in New York deserted Gaddafi in support of Libya's protesters.