U.S. Marines arrive in Greece in Libya buildup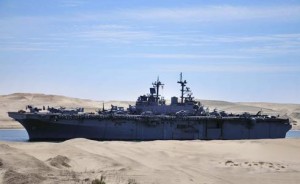 Some 400 U.S. Marines arrived at an American naval base in Greece in a buildup of U.S. forces around revolt-torn Libya, even as European governments shied away Thursday from possible military action.
Italy ruled out any possible Italian military participation in Libya, citing its history as the country's colonial occupier. Germany said military action would be counterproductive and would only feed Libyan leader Moammar Gadhafi's propaganda machine.
Libyan opposition leaders have pleaded for foreign powers to launch airstrikes to help them oust Gadhafi, but the Pentagon has tried to play down the idea of using force, including a no-fly zone.
German Foreign Minister Guido Westerwelle said such a discussion wasn't even on the agenda, and that regardless Germany was opposed.
"We do not participate and we do not share the discussion of a military intervention because we think this would be very counterproductive," Westerwelle said in English in the Slovak capital Bratislava on Thursday.
Rather, he called for additional sanctions against Gadhafi and his regime, saying those adopted by the EU didn't go far enough.
On Wednesday, some 400 U.S. Marines from the 2nd Marine Expeditionary Unit, based at Camp Lejeune in North Carolina, arrived at the U.S. Souda Bay on the Greek island of Crete, base spokesman Paul Farley said.
He said they had been deployed "as part of contingency planning to provide the president (Barack Obama) flexibility on full range of option regarding Libya," along with the amphibious assault ships USS Kearsarge and USS Ponce which have been ordered to Mediterranean.
Italian Foreign Minister Franco Frattini, who has said Italy would be willing to offer the use of its bases for enforcing a possible no-fly zone in Libya, ruled out any actual Italian military intervention in the country.
"I categorically rule out" Italian participation in military action, Frattini said in an interview published Thursday in the Italian Catholic newspaper Avvenire.
He said this was for "obvious reasons" linked to Italy's 1912-1943 occupation of the North African country.
Photo: U.S. amphibious assault ship USS Kearsarge sails through the Suez canal Wednesday in Ismailia , Egypt. Two U.S. warships have entered the Suez Canal, moving closer to the Libyan coast. AP photo