Cooper: Gaddafi Telling 'Lies' About Libya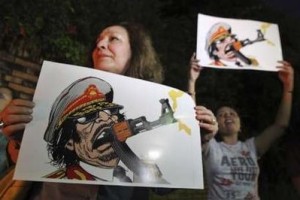 Anderson Cooper, whose use of the word "lie" about the government of former Egyptian president Hosni Mubarak stirred controversy, used the word again when referring to Libyan leader Muammar Gaddafi on his Monday show.
Specifically, Cooper was referring to the interview Gaddafi gave to ABC's Christiane Amanpour, The Times of London and the BBC. He played a clip of Gaddafi saying, "my people love me." For Cooper, this was evidence that Gaddafi's "grip on reality" was loosening.
"Whatever you call them, you can add his latest comments to a long list of lies he's been telling for days," he said.
Cooper used the term frequently to describe Mubarak's regime. During an appearance on "The Daily Show," he said he was "stunned" by the criticism he received.