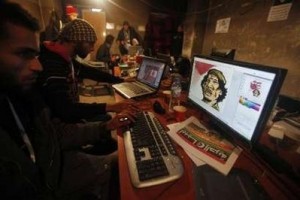 In an attempt to seek revenge on the protesters, Moammar Gadhafi's regime has turned its fury on those it blames for stoking the anti-government uprising: Libyan youths who spread revolution on Facebook and Twitter.
A resident of Tripoli who spoke on the condition of anonymity said his neighbor was arrested because he had been posting messages on the popular social networking sites.
"The regime is erasing evidence of its atrocities," he said, adding that it may be a long time, if ever, before the real toll of the regime's crackdown is known. "Gadhafi is waging a campaign of revenge."
A Libyan-American in Tripoli, who spoke on the condition of anonymity citing a fear for his life, said he was terrified when security forces raided his neighbor's house.
"I thought they were coming to get me because I have been posting messages on Facebook," he said.
In phone and Internet Skype interviews with The Washington Times on Sunday, Tripoli residents described a continuing campaign of terror unleashed by the Gadhafi regime over the weekend.
Security forces and mercenaries loyal to the embattled Libyan dictator escalated their attacks against suspected opponents of the regime, executing civilians on the streets of Tripoli.
Armed men riding in vehicles marked with Revolutionary Guard Corps insignia were shooting people in the streets and bundling their bodies into their cars before speeding off.
The United States on Sunday kept up pressure on the Libyan regime.
Two U.S. senators on a visit to Egypt on Sunday urged President Obama to help arm a provisional government in Libya's second-largest city, Benghazi.
Sens. John McCain, Arizona Republican, and Joe Lieberman, Connecticut independent, also called for the United States and its allies to enforce a no-fly zone over Libya to prevent the military from again firing on civilian protesters from the air.
In Libya, heavy fighting was reported from the cities of Az Zawiya and Misurata in the west. Both cities were under the control of anti-government forces Sunday, but residents said Col. Gadhafi's troops had them surrounded.
In the east, an uneasy calm hung over Benghazi, which is under the control of anti-government forces and soldiers who have deserted the military.
Rumors that Col. Gadhafi had sent troops to crush the uprising in the east fueled the nervousness of Benghazi residents who implored the international community to impose a no-fly zone over Libya for their protection.
"We are scared Gadhafi may bomb us with poison gas. This guy is dangerous. He knows he is done for, and he wants to take us all down with him," Benghazi resident Mohamed El-Faituri said.
In Tripoli, residents said the city resembled a ghost town.
A resident said security forces had prevented ambulances from entering the Fashloum area of Tripoli where heavy fighting has taken place.
"It is just incredible that unarmed people were showered with live fire and real bullets, no tear gas, no rubber bullets. Just real killer bullets," he said on the condition of anonymity.
The U.N. Security Council voted unanimously on Saturday to impose sanctions on Libya, but Col. Gadhafi on Sunday dismissed the U.N. resolution as illegitimate.
"The U.N. is not allowed to meddle in the internal affairs of other countries, unless a country is attacking another state," Col. Gadhafi said in an interview with Serbia's Pink television station.
The Washington Times