Assad has communicated desire for peace negotiations with Israel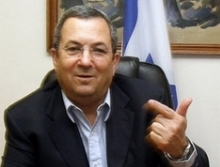 Syrian President Bashar Assad is apparently signalling willingness to engage in peace talks with Israel Defence Minister Ehud Barak said Monday.
'I think we have to examine every option. If it emerges that the Syrian president intends truthfully and is seriously examining this, based on the understanding that peace is mutual, he will find us willing,' he told an Isreali radio talk show.
Direct Israeli-Syrian peace talks broke off in early 2000 and have never been resumed, although the sides did engage in indirect negotiations – with Turkey as a mediator – some years ago.
Syria demands the return of the Golan Heights, captured in the 1967 Middle East war, as a prerequisite for any peace treaty. But Israeli leaders have officially rejected handing back all of that strategic plateau, which overlooks northern Israel.
Also in the Monday morning radio interview, Barak said Israel needed to strengthen the peace process with the Palestinians, but refused to say whether any new Israeli peace plan was in the offing.
'Obviously we will look out, in any agreement, for our interests, firstly our security interests. This is worth doing even now with the wave of revolutions in the Arab world,' he said.
In November 2010, Israeli Foreign Minister Avigdor Lieberman said there was no possibility of concluding a peace deal with Syria while President Bashar al-Assad remained in power.
"Only a political hypochondriac could say Syria is a partner for peace, certainly under the current leadership," said Lieberman, who heads the ultranationalist Yisrael Beitenu party, a main partner in Israel's rightist coalition government.
Lieberman, himself a settler, has been a vocal opponent of any extensions to Israel's partial West Bank freeze on settlement building which ended in September and brought U.S.-brokered peace talks with the Palestinians to a standstill.
Lieberman added: "It must be clear that the Golan Heights was always a part of Israel."
DPA