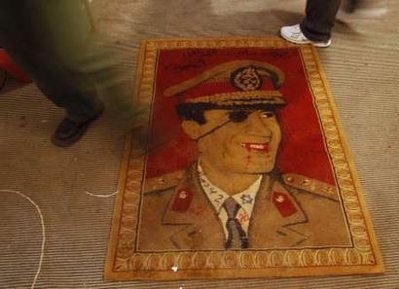 The soon to be former Libyan leader Moammar Gaddafi has lost control of most of Libya. As his regime crashes and burns, his propaganda machine continues to churn, with son Saif al-Islam denying any wrongdoing on behalf of his father.
"Our Arab brothers pay monthly salaries to journalists and tell them to write and incite against Libya, write against Qaddafi," he told the Dubai-based Al-Arabiya television channel.
The popular uprising which began on February 15 in the port city of Benghazi has taken control of much of the east of the country, but Seif al-Islam Qaddafi said people in "three-quarters of the country are living in peace."
He denied that African mercenaries had been recruited to attack the protestors in a crackdown that the United Nations say has killed at least 1,000 people.
"Show us the mercenaries, show us the women and children who were killed," he said. "These reports about mercenaries are lies."
"Those provoking these people are terrorists," he added, echoing his father who in a televised address earlier in the week blamed Al-Qaeda and Osama bin Laden for manipulating the country's youth with drugs.
He said Libyan Interior Minister Abdel Fatah Yunes, who resigned on Tuesday and called on the armed forces to back the rebellion, had been "abducted and forced to speak… so what do you expect?"
In separate comments to AFP, referring to the opposition based abroad, Seif al-Islam said: "The situation is on its way to being calm. It is not in our interests to burn our country and to fight one another, and those who are fighting are those who are in Europe, America and the Gulf."
He also denied there had been massacres and that Libya's air force had bombed protestors. "Eighty percent of those who died, died trying to storm military areas," he said.
Final hours
Abdul Monem al-Houni, Libya's former representative to the Arab League, who resigned in protest to Colonel Gaddafi's brutal and violent crackdown against the protestors in Libya, has told Asharq Al-Awsat that the Libyan regime is in its final hours. Al Houni revealed that the Gaddafi regime is currently only in control of the Bab al-Azizah military compound in Tripoli, and 3 other military camps, including one commanded by Khamis Gaddafi, with the rest of the country being under the control of the protestors.
In a telephone interview with Asharq Al-Awsat, the former Libyan ambassador to the Arab League revealed more information about the situation in the country, including information about Gaddafi asking for help from his own tribe – the Gaddafi tribe – located in Sirte. There have been reports of a convoy of 30 armored Land Cruisers loaded with heavy machine guns setting out from Sirte; however anti-government protesters in Misurata objected to this and prevented this convoy from reaching Tripoli.
Al-Houni also told Asharq Al-Awsat said that the Libyan youths have vowed to overthrow the Gaddafi regime or die in the attempt, and that it is only a matter of time until the Gaddafi regime is toppled, adding that Gaddafi is facing his final hours. He also revealed that Gaddafi had attempted to negotiate with the West, promising to combat Al Qaeda in return for the West supporting him and allowing him to remain in power, however he added that the West have rejected this, considering this a "broken record."
For his part, Ahmed Gaddaf al-Dam, Gaddafi's own cousin, who was also one of the top security figures in Libya and who defected from the Libyan regime, has stressed that the most important thing is to put an end to the bloodshed and achieve national stability. He added that Libya must avoid any foreign intervention and preserve national unity.
Gaddaf al-Dam, who is currently visiting Syria, also told Asharq Al-Awsat that he had defected in protest to the manner in which the events in Libya were being dealt with. He called on all parties to stop the bloodshed for the sake of Libyan unity and stability. Gaddaf al-Dam, who was in charge of Libyan – Egyptian diplomatic relations, stressed to Asharq Al-Awsat that Libya is above all other considerations, and he revealed that he has instructed his staff at his office in Egypt to organize a medical convoy to be sent to Libya to aid the Libyan people.
Now Lebanon, Alsharq Alawsat