U.S. Senators: No choice between justice and peace for Lebanon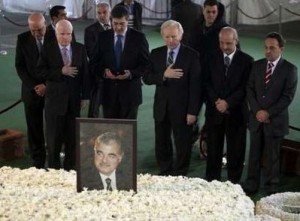 Visiting US Senators John McCain and Joseph Lieberman on Tuesday urged Lebanon's future government to respect the findings of a UN tribunal investigating the 2005 assassination of Lebanese prime minister Rafik Hariri.
After meeting with prime minister-designate Nagib Mikati, Lieberman reiterated the United State's commitment to the tribunal.
"Choosing between justice and peace is a false choice"
"The work of the tribunal is of vital importance to stability, security and justice in Lebanon. It is important that it continue," McCain said, according to a statement released by the US Embassy in Beirut.
"Any government that is truly representative of all of Lebanon would not abandon the effort to end the era of impunity for assassinations in the country."
The statement quoted Lieberman as saying, "This is a decisive moment for Lebanon. Choosing between justice and peace in Lebanon is a false choice."
"Without justice for Rafik Hariri and the dozens of other innocent victims of terrorism in Lebanon, there can be no peace or stability for Lebanon."
Meetings held with Hariri, Mikati, Geagea, Jumblatt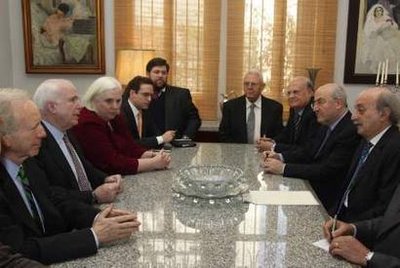 The two senators arrived in Lebanon Monday to meet with Lebanese officials. Talks were held with Saad Hariri on Monday, and on Tuesday they held separate talks with Mikati, Lebanese Forces leader Samir Geagea, Progressive Socialist Party leader MP Walid Jumblat in the presence of U.S. Ambassador to Lebanon Maura Connelly.
'Whether Democrats or Republicans, both (former US president George W) Bush and (US President Barack) Obama's administration are committed to the STL (Special Tribunal for Lebanon) and its indictments,' he said.
The tribunal is widely expected to accuse members of the militant Shiite group Hezbollah of involvement in the killing. It walked out of the previous government after then prime minister Saad Hariri – the slain premier's son – refused to reject the tribunal.
Hezbollah and their allies then nominated Mikati, who was named Lebanon's prime minister-designate but has been struggling to form a government since January.
When asked about the US' attitude towards the new cabinet, Lieberman said the United States would make its decision once the cabinet clarifies its stance on the STL.
'As you know, the US has listed Hezbollah as a terrorist organization which highly affects US foreign policy regarding Lebanon,' he said, adding that 'Hezbollah's role in the new cabinet will affect bilateral ties.'
Geagea expressed disappointment
According to a statement, Geagea spoke at length with the Senators about the Middle East peace process, calling it a "pressing necessity for any progress in all fields in the region."
He said that he was "very disappointed" that the US had vetoed a UN Security Council resolution that to condemn Israeli settlements.
"The United States' use of veto power contradicts its public stance on the settlements subject, raising large question marks regarding the extent of its seriousness in efforts to solve the Palestinian issue," he said, according to the statement.
DPA, Now Lebanon, Naharnet