Libyan official: Sadr was murdered during visit to Libya in 1978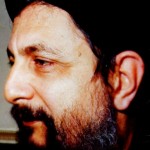 A former Libyan envoy has said that Lebanese Shia leader Imam Moussa al-Sadr "was shot and killed during his visit to Libya in 1978."
In an interview with Al-Hayat newspaper to be published on Wednesday, Major Abdel Meneem al-Houni, who has resigned from his post as Libya's Arab League envoy, confirmed Sadr's death.
Houni, who was also Libyan leader Moammar Qaddafi's ally during the country's 1969 revolution, said that Sadr was buried in the Libyan region of Sebha.
The Lebanese Amal Movement – headed by Speaker Nabih Berri – has repeatedly said that Libya is responsible for Sadr's disappearance in 1978.
Hundreds of Libyan protestors have died in a wave of unprecedented demonstrations that have rocked Libya for the past seven days, with protestors taking over several cities in the east of the country and calling for Qaddafi's resignation.
Qaddafi ordered his followers Tuesday evening to crush uprisings against his 41-year rule and vowed to fight to the death as he swatted away growing outrage over the bloody crackdown.