Analysis: Egypt's appeal for emergency economic help
Egypt's top diplomat warned that the country faces a severe post-revolutionary economic crisis and appealed for urgent economic U.S. help.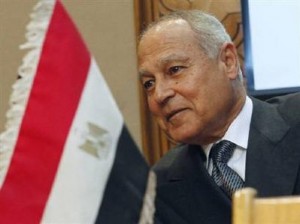 By David Ignatius
As young protesters continue to clear away debris from the demonstrations in Tahrir Square, Egypt's top diplomat warned that the country faces a severe post-revolutionary economic crisis and appealed for urgent U.S. help.
Foreign Minister Ahmed Aboul Gheit said in an interview Thursday morning that the West, in its enthusiasm for supporting Egypt's new democracy, should not ignore the severity of the economic squeeze here. "If the Americans really want to help they should see how they can alleviate pressure on the Egyptian budget," he argued.
The numbers show a scary deterioration in the Egyptian economy. Economic growth had been forecast at 6 percent for this year, but Hossam Zaki, spokesman for the foreign ministry, said it will be about half that. Since the anti-Mubarak demonstrations began Jan. 25, he said, the country has lost more than $15 billion in output. Investment has slowed because of uncertainty, and the tourism industry, which employs 1.8 million people, has all but stopped.
Aboul Gheit proposed that the United States should either write off Egypt's debt service, which he said totals $350 million annually, or provide $1 billion in emergency economic assistance to stabilize the country. He was making these proposals, he said, in advance of a visit by Undersecretary of State William Burns, who will be coming here next week to assess Egypt's needs.
"The message is, give Egyptians the ability to eat bread while they focus on the democratic future," he said.
Aboul Gheit, a holdover from the government that just fell, may lose his job in a cabinet reshuffle that he said is coming in several days. He's a classic product of Egypt's foreign service: smooth, urbane and skilled in the court politics that were part of Hosni Mubarak's 30-year regime. In a sign of the times, he deferred often to two younger colleagues, who may be around the foreign ministry longer than their boss.
Asked whether Egypt was taking steps to recover money that had been looted by corrupt cronies of Mubarak, Aboul Gheit said his ministry had asked foreign governments to freeze assets of five people — four former cabinet ministers and a businessman who was close to the deposed president. He said Egypt's prosecutor general will decide how to proceed in cases involving alleged corruption, including any matters involving Mubarak's family. "This is a very sensitive issue," he said. "You have to verify the facts."
Aboul Gheit said the military commission that holds power wants a transition to democracy like the one that took place in Eastern Europe after the fall of the Berlin Wall in 1989. But he cautioned: "This country cannot sustain shock therapy" of the sort that accompanied the post-communist transformation there.
As for internal security, Aboul Gheit said "it will take time," with four to six weeks needed for the police to rebuild after their collapse during the Tahrir protests. He said 99 police stations had been burned and about 15,000 prisoners had escaped.
Aboul Gheit also confirmed reports that there had been an assassination attempt this month against Vice President Omar Suleiman, who was also deposed with Mubarak a week ago. "I have seen the car with the bullets," he said, adding that one of Suleiman's bodyguards had been killed in the attack and that his driver had died later in the hospital.
[UPDATE, 8:40 P.M. Later in the day Secretary of State Hillary Clinton went a modest way toward meeting Aboul Gheit's ambitious request, but if his account of Egypt's financial needs is accurate, the $150 million gift would amount to just more than half Egypt's prospective debt payment this year.]