Libya frees 110 jailed Islamists
Libya has released 110 Islamists of the Libyan Islamic Fighting Group (LIFG), the eve of a "Day of Anger" called by activists on Facebook, an AFP correspondent witnessed.
The releases bring to 360 the number of political detainees freed since last March, according to figures compiled by AFP.
Libyan League For Human Rights head Mohammed Tarnish told journalists outside Tripoli's Abu Salim prison that the releases had been scheduled months ago and were "unconnected to any other matter."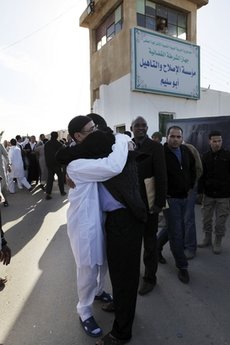 The releases came as clashes were reported in Benghazi, Libya's second city, ahead of Thursday's "Day of Anger" called in the wake of revolts in neighbouring Egypt and Tunisia.
Before the latest releases, Libya had since March freed 250 prisoners including former LIFG leader Abdelhakim Belhaj, its military chief Khaled Shrif and principal ideologue Sami Saadi, as well as members of various other Islamic groups.
Tarnish said "those released had completed the rehabilitation programme for the renunciation of violence and reintegration of prisoners into Libyan society."
The programme was started by Seif al-Islam, son of Libyan leader Moamer Kadhafi, with the help of cleric Ali Sallabi.
The LIFG in 2007 reaffirmed its determination to topple Kadhafi's regime and to replace it with an Islamic state, and also stated its affiliation to Al-Qaeda.
It was run from Central Asia by a leading aide of Osama bin Laden, Abu Laith al-Libi, who was killed in February 2008 in the tribal areas of Pakistan. Times Live