Lebanon warns Israel: Invasion won't be a walk in the park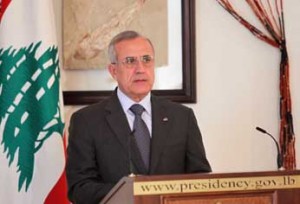 Lebanese President Michel Suleiman condemned in a statement Thursday Israeli Defense Minister Ehud Barak's threat that Israel might invade Lebanon again by saying invading Lebanon is no loner a walk in the park as demonstrated by the July 2006 war."
He added :" Barak's statement reveals Tel Aviv's aggressive intentions and willingness to violate international resolutions", in reference to U.N. Security Council resolution 1701.
"Lebanon abides by UN Security Council Resolution 1701, while Israel violates it daily", Suleiman added.
Suleiman said that Barak's statements was aimed at "raising the morale" of the Israel Defense Force's new chief of staff, Benny Gantz.
"The Lebanese with their army, people, and Resistance, are ready to repel any aggression against Lebanon." Suleiman said
Israeli newspaper Haartez quoted Defense Minister Ehud Barak as saying on Tuesday that Israel Defense Forces IDF may be called into Lebanon in the future.
"Hezbollah remembers the heavy beating they suffered from us in 2006, but it is not forever, and you may be called to enter [Lebanon] again," Barak told the IDF soldiers, adding that "we must be prepared for every test."
Barak on February 5 appointed Gantz as Israel's new armed forces chief of staff. His appointment follows months of infighting among the Jewish State's high command.