LBC: No Lebanon cabinet this week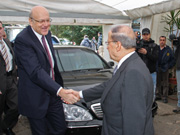 "The cabinet will not be formed at the end of this week", LBC quoted on Thursday unnamed source close to Prime Minister-designate Najib Mikati as saying.
Consultations with different parties are ongoing, the source also said, adding that Mikati will take his time to form a cabinet.
Talks with the March 14 coalition are ongoing, the source also said.
Mikati reportedly visited president Suleiman at Baabda palace and Speaker Nabih Berri in Ain el Tinah to discuss the latest developments and was also visited by MP Walid Jumblatt on Wednesday for the same purpose.
According to analysts General Michel Aoun continues to be the biggest obstacle facing Mikati since he is insisting on getting the ministry of Interior in addition to demanding a disproportionate number of portfolios in the new cabinet.
Commenting on his dispute with President Michel Suleiman over the ministry of interior
Aoun said yesterday during an interview with OTV that he won't let the president have any portfolio.
" The issue of the president's share (in cabinet) is a farce that is not subject to any constitutional provisions or the criteria of popular support, and personally I won't give Suleiman any portfolio as he hasn't been a consensual president."
Aoun added: "The president formed electoral lists to challenge us in the parliamentary and municipal elections".
The Iranian- and Syrian-backed Hezbollah brought down PM Saad Hariri's government on January 12 over the Special Tribunal for Lebanon's imminent indictment which is widely expected to implicate Hezbollah members in the assassination of former PM Rafik Hariri in 2005 .
Mikati, who was backed by Hezbollah and its March 8 allies including MP Walid Jumblatt and Mohammad Safadi, was appointed on January 25 by president Michel Suleiman as PM-designate to form and head the next cabinet , giving Hezbollah and its allies increased leverage in the country and provoking widespread protest.
On Monday U.S. Secretary of State Hilary Clinton accused Hezbollah of hijacking Lebanon's democracy.
The Lebanese "deserve to have their democracy respected and their voices heard, and not have one element of their society using the threat of force and the potential of violence to try to achieve political ends," she said.
This was a possible reference to the alleged Hezbollah threats against MP Walid Jumblatt and his PSP parliament members that forced them to switch allegiance to Hezbollah's PM candidate .