Gaddafi turns helicopter gunships on own people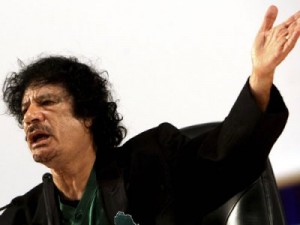 Colonel Muammar Gaddafi's regime turned helicopter gunships and snipers on protesters killing up to 19 people yesterday as rare anti-government demonstrations were last night reported to have reached Tripoli, the capital.
The eccentric dictator was the focus of "Day of Rage" protests in at least five cities, an unprecedented challenge to his 42-year old "Green Revolution".
Varied reports said that Libyan security forces killed demonstrators in Benghazi, al-Baida, Ar Rajban, Zintan and a Tripoli suburb.
Human Rights Solidarity, a campaign group, said that snipers on rooftops in Al-Baida – a city of 210,000 inhabitants – had killed 13 protesters and wounded dozens of others. Police stations in the town were set on fire as protesters burned posters of Col Gaddafi.
Other opposition websites said that six people had been killed in Benghazi after clashes broke out at the funerals of two people killed the day before. Hospitals in the second city were reported to have received scores of injured.
Among the chants recorded was: "Libya is Free and the Colonel can leave."
A heavy turn out of pro-regime supporters bearing sticks and placards praising the "brother leader" – who has ruled Libya since 1969, failed to deter protests in Tripoli, hitherto a bastion of Gaddafi's regime.
Students had been bused into Green Square, the symbolic heart of Gaddafi's revolutionary regime, but as soon as the dusk fell equally youthful protesters emerged in the crowds of Omar Al-Mukhtar street, the capital's premier avenue.
The tide of revolt sweeping North Africa and the Middle East has caught out the ageing dictator and exposed tensions in the regime. Col Gaddafi used state television to berate neighbouring Tunisians after its ouster of reviled president Zine al-Abedine Ben Ali.
Saif al-Islam, the proto-reformist son of the dictator has privately flirted with endorsing the protests in Egypt and elsewhere but was warned off doing so publicly by the security services.
The Gaddafi family's billionaire lifestyle and playboy reputations is a liability in a region where unemployment and corruption are provoking demonstrations.
Internet based movements, inspired by activists inside Libya and abroad, have been the rallying point for protesters.
One Facebook group, which had 4,400 members on Monday, had seen that number more than double to 9,600 by Wednesday, a day after clashes in Libya's second city Benghazi.
To counter the threat of protests, the regime bombarded mobile phone text messages circulated across the Libyan mobile network from "the youth of Libya" warning against crossing "four red lines: Muammar Gaddafi, territorial integrity, Islam and internal security."
"We will confront anyone in any square or avenue of our beloved country."
Libya produces about 2 per cent of the world's crude oil exports and lucrative contracts have seen Shell and BP invest billions of pounds there since 2005. Telegraph