Hariri: We cannot build a nation like this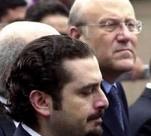 Caretaker Prime Minister Saad Hariri said on Thursday that it is unacceptable that arms are being used as a tool to pressure political life in Lebanon.
"It is unacceptable that arms are used as a tool to pressure political life in Lebanon. He added "We cannot build a nation like this,"
Hariri said that from now on, he will speak clearly and frankly about all issues.
"Our concern and priority is that there are no arms used by any party to harm civil peace and democracy," Hariri said in a statement issued by his press office.
When the other party is faced with clear stances like those we made on Monday, we are described as traitors, Hariri also said.
"Some parties do not want relations with Saudi Arabia to be good . I reassure everyone that the relations with Saudi are stronger than any attempts that aim to disrupt them ."
Hariri on Monday announced that the March 14 alliance would become the new opposition and called for a rally in a month at Beirut's Martyrs Square to voice the alliance's principles.
The Iranian- and Syrian-backed Hezbollah brought down PM Saad Hariri's government on January 12 over the Special Tribunal for Lebanon's imminent indictment which is widely expected to implicate Hezbollah members in the assassination of former PM Rafik Hariri in 2005 .
Nagib Mikati, who was backed by Hezbollah and its March 8 allies including MP Walid Jumblatt and Mohammad Safadi, was appointed on January 25 by president Michel Suleiman as PM-designate to form and head the next cabinet , giving Hezbollah and its allies increased leverage in the country and provoking widespread protest.
On Monday U.S. Secretary of State Hilary Clinton accused Hezbollah of hijacking Lebanon's democracy.
The Lebanese "deserve to have their democracy respected and their voices heard, and not have one element of their society using the threat of force and the potential of violence to try to achieve political ends," she said.
This was a possible reference to the alleged Hezbollah threats against MP Walid Jumblatt and his PSP parliament members that forced them to switch allegiance to Hezbollah's PM candidate . Now Lebanon