Israeli DM: IDF may be called into Lebanon in the future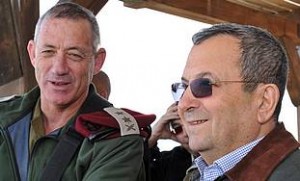 Israeli newspaper Haartez quoted Defense Minister Ehud Barak as saying that Israel Defense Forces IDF may be called into Lebanon in the future.
"Hezbollah remembers the heavy beating they suffered from us in 2006, but it is not forever, and you may be called to enter [Lebanon] again," Barak told the IDF soldiers, adding that "we must be prepared for every test."
Barak was Tuesday  on a tour of Northern Israel with new IDF Chief of Staff Lt.-Gen. Benny Gantz.
Commenting on recent developments in the region he said despite the upheavals in Tunisia and Egypt, the peace treaty with Cairo will be maintained.
Barak was also quoted as saying that the" IDF needs to be prepared because the entire region is changing before our eyes.
Gantz did not talk to the press but said that "the choice of the tour in the north is coincidental. We will visit all areas in the next few days."
The Iranian- and Syrian-backed Hezbollah brought down PM Saad Hariri's government on January 12 over the Special Tribunal for Lebanon's imminent indictment which is widely expected to implicate Hezbollah members in the assassination of former PM Rafik Hariri in 2005 .
Nagib Mikati, who was backed by Hezbollah and its March 8 allies including MP Walid Jumblatt and Mohammad Safadi, was appointed on January 25 by president Michel Suleiman as PM-designate to form and head the next cabinet , giving Hezbollah and its allies increased leverage in the country and provoking widespread protests.