Bassil: We asked for the Interior Ministry portfolio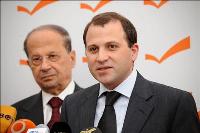 In an interview with OTV, Energy Minister Gebran Bassil confirmed on Tuesday that the Change and Reform bloc, which is headed by his father-in-law MP Michel Aoun has asked for the Interior Ministry portfolio in the next cabinet
He said this came after Aoun's request for the Finance Ministry was rejected.
"We were told that the Finance Ministry portfolio will be part of Prime Minister-designate Najib Mikati's share, so we then asked for the Interior Ministry portfolio."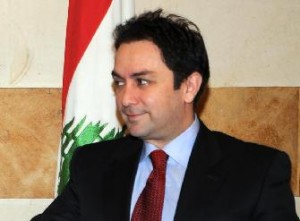 President Michel Suleiman who is currently represented by Ziad Baroud as the minister of interior in the outgoing cabinet is reportedly insisting on holding onto this ministry
The Iranian- and Syrian-backed Hezbollah brought down PM Saad Hariri's government on January 12 over the Special Tribunal for Lebanon's imminent indictment which is widely expected to implicate Hezbollah members in the assassination of former PM Rafik Hariri in 2005 .
Mikati, who was backed by Hezbollah and its March 8 allies including MP Walid Jumblatt and Mohammad Safadi, was appointed on January 25 by president Michel Suleiman as PM-designate to form and head the next cabinet , giving Hezbollah and its allies increased leverage in the country and provoking widespread protests.