Palestinian cabinet quits, what next for Abbas? Q/A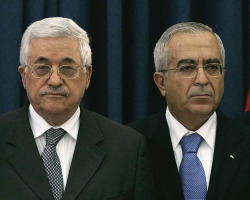 The Palestinian cabinet resigned on Monday and President Mahmoud Abbas asked Prime Minister Salam Fayyad to form a new government, apparently jolted by political upheaval in Egypt.
Here are some questions and answers about what happens next:
WHY IS ABBAS RESHUFFLING THE CABINET?
There has been talk of a reshuffle for many months, but unrest in Egypt and Tunisia seems to have spurred Abbas into action. The move signals a willingness to shake things up. Insiders say the new cabinet will look to boost the government's profile as it seeks international backing in the standoff with Israel. It will also be tasked with preparing for long-delayed presidential, legislative and local elections called by Abbas at the weekend for later this year.
ARE THESE ELECTIONS LIKELY?
Local elections will not be a problem, but a presidential and parliamentary vote will be much more problematic. For these two ballots, national unity is needed, but the two Palestinian territories — the West Bank and Gaza — have never seemed further apart. The Islamist group Hamas, which controls Gaza, and Abbas's Palestinian Authority disagree on the election laws and previous slated ballots have been canceled. Hamas has said it will not recognize this latest electoral move.
East Jerusalem, which is controlled by the Israelis but which the Palestinians want as their future capital, poses another problem. To have any legitimacy in Palestinian eyes, the vote must happen there as well. It happened in the past, but there is no guarantee Israeli Prime Minister Benjamin Netanyahu will give it the go-ahead now, with peace talks stalled.
DOES ABBAS PLAN TO STAND FOR RE-ELECTION?
Abbas has often said he will not seek re-election, but he has no clear successor within his secular Fatah party. At least one official has recently suggested that he might soon appoint a vice president. This person could conceivably replace Abbas if a vote is not held in September and he decides to quit regardless.
IS PRIME MINISTER SALAM FAYYAD UNDER THREAT?
Although he formally submitted his resignation, he was immediately asked by Abbas to form the new government. Backed by the West, Fayyad has spearheaded the creation of institutions necessary for the establishment of a state. However, he does not have a popular following and is not seen as a possible presidential candidate.
ARE PALESTINIANS LIKELY TO COPY THE EGYPTIAN PROTESTS?
There have only been a few, small West Bank protests, with one anti-Mubarak demonstration turning into an anti-Abbas rally. However, Abbas's security forces have been quick to prevent large-scale gatherings that could challenge his authority and bolster Hamas. Hamas's security forces have also moved quickly to hinder protests against the movement's rule in Gaza.
Libyan leader Muammar Gaddafi urged Palestinians on Sunday to seize the moment and rise up against Israeli occupation. But there has been no sign of such a movement taking shape. Some analysts have suggested Palestinians may take to the streets to press Abbas to reconcile with Hamas and end security coordination with Israel.
WILL THIS HAVE ANY IMPACT ON THE PEACE PROCESS?
There are no talks going on with the Israelis, Abbas's own negotiating team is in disarray after the recent publication of hundreds of their secret diplomatic documents and the Americans have taken time out from trying to press for talks. Given this, on-going Palestinian political maneuverings will have little or no impact, for now. Reuters