March 14: Hariri will head the opposition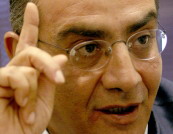 March 14 General-Secretariat Coordinator Fares Soueid said Sunday that outgoing PM Saad Hariri will declare on Monday, the day that marks the sixth anniversary of the assassination of his father former PM Rafik Hariri, his transition to the opposition camp.
"The speech that will be delivered by Saad Hariri in the conference held by the March 14 forces tomorrow (Monday) will define the political shift and the new highlights of the upcoming period," Soueid said .
The issues of "protecting the Special Tribunal for Lebanon and rejecting the use of weapons in the domestic arena" will top the agenda of the Hariri-led March 14 camp from now on, Soueid said and added " it seems that weapons are in charge of the Lebanese State's entire hierarchy." This is a possible reference to Hezbollah arms.
Soueid's statement serves as as a confirmation that March 14 will not participate in the new cabinet.
Earlier today Democratic Gathering bloc MP Marwan Hamadeh said, "On February 14, the Lebanese people will witness a major stance that will end the 'grey' phase that is being imposed on us ." This was a possible reference to the decision by March 14 agaisnt participating in the new cabinet.
The Iranian- and Syrian-backed Hezbollah militants brought down PM Saad Hariri's government on January 12 over the Special Tribunal for Lebanon's ( STL) indictment which is widely expected to implicate Hezbollah members in the assassination of former PM Rafik Hariri in 2005 .
Nagib Mikati, who was backed by Hezbollah and its March 8 allies including Jumblatt and Mohammad Safadi, was appointed by president Michel Suleiman as PM-designate to form and head the next cabinet , giving Hezbollah and its allies increased leverage in the country and provoking widespread protests.
Jumblatt who, along with his parliamentary bloc had the decisive vote in the naming of PM designate was reportedly subjected to repeated threats by Hezbollah.
Hezbollah, which is the only armed Lebanese group in Lebanon is supposed to use its arms only for resistance purposes against Israel , but ever since 2006 war Hezbollah has used its arms internally for securing political advantages.
Mikati has called on all Lebanese parties to join his upcoming cabinet, but March 14 parties have said that they will not take part in a cabinet headed by a March 8 before Mikati first clarifies his stance on illegal weapons ( those of Hezbollah and Syrian backed Palestinians outside the camps) and the UN-backed tribunal STL.
President Michel Suleiman said on Friday in comments over the appointment of Mikati as a PM designate that the transfer of power from March 14 to March 8 was democratic according to a statement from his office.