Egyptian Ambassador: U.S. can count on Egypt as an ally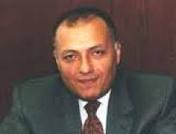 The Egyptian ambassador to the United States says the Egyptian military, led by the Minister of Defense Field Marshall Mohamad Tantawi, is in charge of his country and that the post-Mubarak Egypt will continue to be a strong U.S. ally.
In an interview with "This Week" anchor Christiane Amanpour, Sameh Shoukry said "The [Military] Council has decided to maintain the current government of Prime Minister Ahmed Shafiq, to be changed at a later stage."
The government, Shoukry said, would focus on restoring security, and restructuring the police force and economic welfare. "That doesn't preclude that the reform process would not go ahead as well," he said.
Shoukry said that Egypt's emergency law would be lifted, as the military had communicated, "as soon as the current conditions of protest have been terminated."
"But when?" Amanpour pressed. "Next week? Next year?"
"They haven't defined yet a specific timetable," Shoukry said.
The emergency law allows agents of the government to arrest anyone without charge.
U.S.-Egypt Relations
"Will a new system in Egypt be as automatically favorable to doing what the U.S. wants, what Israel wants as the previous one," Amanpour asked.
Shoukry said Egypt acts in its best interest and the best interests of its people.
"Can the U.S. count on the same kind of support it had before?" Amanpour asked.
"Certainly," Shoukry said. "These issues are driven by mutual interest, by Egyptian interest and the interest remains a close association to the United States."
Mubarak Location
Amanpour asked the ambassador about where former Egyptian President Hosni Mubarak is currently living.
"I have no immediate knowledge of his whereabouts," Shoukry said. "I believe he is in Egypt," he said, but he denied having any information of where Mubarak is specifically. ABC