Berri attacks Hariri Tribunal and March 14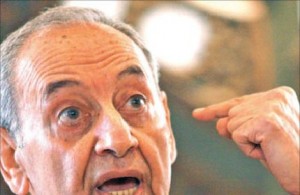 Lebanon parliamentary Speaker Nabih Berri used the occasion of the graduation ceremony for AMAL students to launch an attack against the Special Tribunal for Lebanon ( STL) and March 14 alliance :
"We support a tribunal that finds the truth, not one that fabricates it," he said and added
"We had reached an agreement on the Special Tribunal for Lebanon at the national dialogue table, but the path taken by the former PM Fouad Siniora's government was not constitutional."
Turning to March 14 , Berri who is a key ally of the Iranian and Syrian-backed Hezbollah said said :
"March 14 needs to free itself from foreign agendas to mature politically".
Berri who closed the door of the parliament for nearly 2 years following the resignation of the Shiite ministers from the cabinet in 2006 over the STL issue , attacked March 14 for the way they handled Lebanon's financial policies: " March 14 took over the Finance Ministry and closed its doors, " he said
Hezbollah brought down PM Saad Hariri's government on January 12 over the Special Tribunal for Lebanon's ( STL) indictment which is widely expected to implicate Hezbollah members in the assassination of former PM Rafik Hariri in 2005 .
Nagib Mikati, who was backed by Hezbollah and its March 8 allies including Jumblatt and Mohammad Safadi, was appointed by president Michel Suleiman as PM-designate to form and head the next cabinet , giving Hezbollah and its allies increased leverage in the country and provoking widespread protests.
Jumblatt who, along with his parliamentary bloc had the decisive vote in the naming of PM designate was reportedly subjected to repeated threats by Hezbollah.
According to observers , Hezbollah, which is the only armed Lebanese group in Lebanon is supposed to use its arms only for resistance purposes against Israel , but ever since 2006 war Hezbollah has used its arms internally for securing political advantages.