Geagea: March 8 only cabinet, a 'political suicide' for Mikati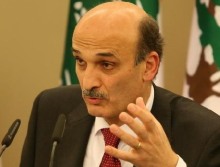 During an interview with the website Al-Kalima, Lebanese Forces leader Samir Geagea said the March 14 coalition will not allow its rival March 8 alliance "to control Lebanon and corrupt it as it did previously."
Geagea said that March 14 will organize its policies and prepare for the upcoming period, in which March 8 will rule in a cabinet headed by Prime Minister-designate Najib Mikati.
"The new majority March 8 is not firm and is bouncing…but we will keep on struggling to prevent it from ratifying laws that would alter the image of Lebanon." Geagea said
He said that a Mikati cabinet that comprises representatives from one coalition only – a reference to March 8 , signifies a "political suicide" for the PM-designate.
"I have a firm conviction that we will not go back in time despite the March 8 attempts of doing so," Geagea said, in a reference to the 1990-2005 era of Syrian mandate in Lebanon.
geagea's comments come after former Lebanese president and current Phalange party leader Amin Gemayel criticized the Hezbollah led March 8 alliance during a press conference on Monday accusing them of changing their own rules.
Gemayel was delegated by March 14 alliance the role of negotiating with Mikati its conditions for participation in the cabinet.'
"We do not understand … consensus was not accepted, and they did not accept that the democratic game be governed according to the exact course that they specified during the terms of the past two governments.
The Iranian- and Syria-backed Hezbollah brought down PM Saad Hariri's government on January 12 over the Special Tribunal for Lebanon's ( STL) indictment which is widely expected to implicate Hezbollah members in the assassination of former PM Rafik Hariri in 2005 .
Mikati, who was backed by Hezbollah and its March 8 allies including MPs Walid Jumblatt and Mohammad Safadi, was appointed by president Michel Suleiman as PM-designate to form and head the next cabinet , giving Hezbollah and its allies increased leverage in the country and provoking widespread protests.