Ashkenazi urges Israel to prepare for an all-out-war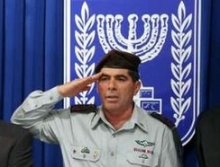 Israeli newspaper ynet reported that the outgoing Israeli Chief of Staff Gabi Ashkenazi warned about growing radicalization in the region and said Israel must prepare for a battle in several theaters.
"Given recent changes in the Middle East, Israel must prepare for a battle in several theaters" Ashkenazi reportedly said Monday at the Herzliya Conference.
"The connection between the different players requires us to contend with more than one theater," he said.
Ashkenazi warned that the radical camp in the Middle East is gaining strength, while the moderate camp is weakening.
Ashkenazi said said that in the wake of the growing threat of radical Islam among Israel's neighbors, the defense budget would have to be boosted in the coming years.
"Because of this spectrum, we must prepare for a conventional war…it would be a mistake to prepare for non-conventional war or limited conflicts and then expect that overnight the forces will operate in an all-out-war," he said.
Commenting on Lebanon's Hezbollah and Gaza's Hamas he said they only pose a limited threat to Israel at this time.
"I do not underestimate Hamas or Hezbollah, but they cannot take over the Negev or Galilee," he said.
"Hezbollah and Hamas understood that encountering the IDF on the classic battlefields is lethal, and are therefore fighting out of urban areas" he said.
Peace with Syria
According to a report in early January by the Israeli Haaretz, Ashkenazi will end his career in the Israel Defense Forces this February and go charging after the next objective: peace with Syria.
Ashkenazi according to Haaretz has dual motivations – national and personal.
On the national level, he wants to rescue Israel from the diplomatic status quo and prevent a dangerous war with Iran. A peace agreement with Syrian President Bashar Assad, which would remove Syria from the Iranian circle of influence and weaken Hezbollah, seems to the retiring IDF chief to be the most effective way to improve Israel's strategic situation.
On a personal level, Ashkenazi was reportedly hurt by the manner in which his term has been brought to a close.