Google Exec named symbolic leader of opposition group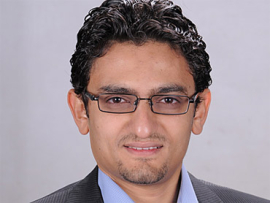 Google's Wael Ghonim has been named the symbolic spokesperson for the April 6 youth opposition group in Egypt, in a move the group hopes will result in the executive's release, CBS News said.
Ghonim, Google's head of marketing for the Middle East and North Africa, has been missing since last Thursday. He was last seen in central Cairo. It's yet to be confirmed, but he's believed to be in the custody of the Egyptian government.
As of Friday, a Google spokesperson told PCMag.com that the company has no new information regarding Ghonim's whereabouts. Earlier this week, the company released a statement confirming his disappearance and asked that anyone with information call the U.K. number +44 20 7031 3008
Despite warnings from friends and family, Ghonim tweeted that he was attending the Jan. 25 demonstration, a which was organized in part by the April 6 movement.
"Pray for #Egypt. Very worried as it seems that government is planning a war crime tomorrow against people. We are all ready to die #Jan25," said the last tweet sent from Ghonim's account.
A leader in April 6 said that if Egyptian officials "want to talk to us, talk to Ghonim," CBS said.
His brother, Hazem, said that the Google exec is being "taught a lesson," and that the family has been receiving threatening phone calls in the middle of the night.
Meanwhile, after following events in Egypt, a pair has created a Google Documents spreadsheet to track those reported missing in the country, including Ghonim.