Syria tightens security at parliament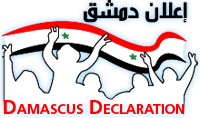 Beirut/Damascus – Syrian opposition activists said that 'peaceful' demonstrations were to take place after Friday prayers outside of parliament in Damascus to call for reforms, but as of early afternoon there were no signs of any demos taking place.
Opposition sources in Syria, who requested anonymity, told the German Press Agency dpa in Beirut that 'the protests will take place after Friday prayers and again on Saturday.'
Eyewitnesses near the parliament in Damascus, however, said they had only seen some 'Syrian security men in plainclothes being deployed in small groups outside Parliament.'
But by early afternoon, one eyewitness near the parliament building told dpa, 'no protesters had gathered' at that location.
Organizers had earlier said demonstrations would be held in the Syrian cities of Damascus, Homs, Aleppo and Qamishli, and outside Syrian embassies in other countries including Canada, the United States, Britain, Sweden and the Netherlands.
According to the organizers the opposition in Syria was working hard for what they described a 'day of anger' urging people not to be afraid to take to the streets and call for reforms.
Several pages have been set up on Facebook, with the most popular one, named 'The Syrian Revolution,' rated as 'liked' by about 13,000 people as of Friday morning.
However, many of those writing on Facebook are Syrians living abroad.
'Such protests are useless in Syria because the president is not hated as much as Hosny Mubarak in Egypt. Our president has started to make reforms few years ago,' a Syrian source loyal to president Bashar al-Assad told dpa.
The activists are trying through Facebook to break the fear by encouraging people to stage peaceful protests, without violence.
According to one activist, Syrian security forces violently broke up a vigil held in Damascus in support of the Egyptian mass protests on Wednesday night.
The police beat those gathered and took some of them, including known activist Suheir Atassi, to the Bab Touma police station, but they released him afterwards.
Meanwhile, Human Rights Watch called on the Syrian authorities on Friday to 'respect' the right of its people to protest.
'Syria's government should immediately cease its intimidation and harassment of demonstrators expressing solidarity with pro-democracy campaigners in Egypt,' the human rights group said in a statement.
'(Assad) should … allow Syria's people more freedom to express their views, whether online or on the street,' said Sarah Leah Whitson, the organization's Middle East director.
In an interview earlier this week, Assad told the Wall Street Journal that the ongoing protests in the region were ushering in a 'new era' in the Middle East, and that Arab rulers would need to do more to accommodate their people's rising political and economic aspirations. M&C