AL chief joins protesters in Tahrir Square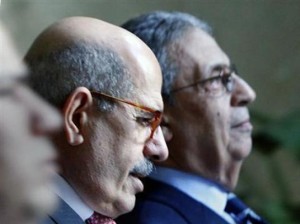 On Friday morning Secretary-General of the Arab League Amr Moussa was reported to be with protesters demanding the resignation of president Hosni Mubarak at Cairo's Tahrir Square.
Press reports introduced Moussa, Egypt's former foreign minister, as one of the most commonly-approved by Egyptians among those tipped for presidency.
Earlier on Friday, Moussa said he is not ruling out running for presidency in September. He said he believes President Mubarak would not leave the country but remain until the end of his term in August. He also expressed readiness to play a role should a transitional governing body be formed.
Other prominent personalities have joined the protesters, including reform advocate Mohamed ElBaradei, former presidential candidate Ayman Nour, as well as several opposition figures and cinema stars.
The number of demonstrators has been estimated by hundreds of thousands following the Friday prayer.
To calm protests
The Arab League said Moussa 'has joined the demonstrator(s) to help maintain calm on the square'.
The opposition hopes to bring over a million people on the streets of major Egyptian cities to force Mubarak to step down.