Security beefed up in Syria ahead of 'Day of Rage'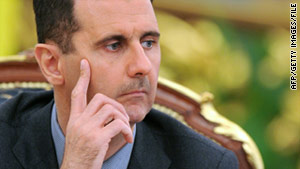 Security is being beefed up in Syria ahead of planned anti-government demonstrations in Damascus, the capital.
Campaigns on social networking sites Facebook and Twitter have called for a "day of rage" on Friday and Saturday, following similar actions in Yemen, Egypt and Tunisia.
Bashar al-Assad, Syria's president, has resisted calls for political freedoms and jailed many critics of his regime.
Human Rights Watch has called on the country's authorities to "respect" the right of its people to protest, following reports that protest organisers had been intimidated by secutiry forces.
"Syria's government should immediately cease its intimidation and harassment of demonstrators expressing solidarity with pro-democracy campaigners in Egypt," the human rights group said in a statement.
On Wednesday, a group of 20 people in civilian clothing beat and dispersed 15 demonstrators who had gathered in old Damascus to hold a candlelight vigil for Egyptian demonstrators.
"Security services also detained two young male demonstrators for a few hours … and have exerted pressure on organisers to cease any public gatherings," Human Rights Watch said.. Al jazeera