Syrians call for 'day of rage' protest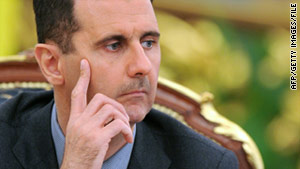 Syrian opposition groups issued calls for mass protests Friday and Saturday in Damascus and elsewhere through social networking sites.
Organizers called on the public to join in demanding an end to corruption and "a state of emergency in Syria," The Financial Times reported.
The Middle East Media Research Institute based in Washington said organizers are attempting to mobilize mass protests against Syrian President Bashar Assad's rule in the latest sign of how revolts in Tunisia and Egypt could be spreading.
Groups are using sites like Twitter and Facebook to drum up support for protests in Damascus, Aleppo and other areas to demand freedom of speech, better living standards and improvements in human rights, MEMRI said.
More than 9,000 people have signed up on a Facebook page dubbed the "2011 Syrian revolt against Bashar Assad."
In an exclusive interview with the Wall Street Journal earlier this week, Assad described his country as stable.
"You have to be very closely linked to the beliefs of the people. This is a core issue. When there is divergence you will have this vacuum that creates disturbances," he said. UPI