Has Mubarak offered too little, too late?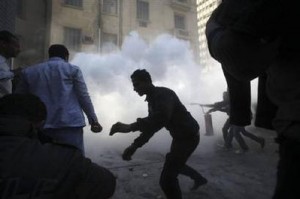 The White House has got what it asked for. But it is not enough. It wanted an orderly transition. President Hosni Mubarak says he will stay until September to ensure that. It was the message that Obama's envoy delivered face-to-face: don't stand in the autumn elections. For a while, the Obama administration wasn't sure the Egyptian president would buy it. But he has. Now an American official has told the BBC: "It is no longer enough."
Senator John Kerry said this morning that the Egyptian president should retire gracefully in September. After the announcement that this is what he will do, the senator has issued a statement:
"It remains to be seen whether this is enough to satisfy the demands of the Egyptian people for change. We arrived at this point because millions of Egyptians spoke with one voice and exercised fundamental rights we Americans hold dear. They made it clear the future they want is one of greater democracy and greater economic opportunity. Now, that future belongs to them to shape. The Egyptian people are writing the next chapter of Egyptian history."
A Western diplomat tells the BBC they and the US state department have taken a while independently to reach the same conclusion, but Mr Mubarak has to go now. "It's hard to see how the process of reform could work with him at the helm."
The reason for this change of heart? It is too little, too late. One official said: "If he had given this speech last week, it would have been great." Western analysts seem certain that the people on the street won't accept him hanging on for months, and not enough of them will engage in negotiations or the process of reform. It's likely they will cold-shoulder Mubarak and only talk to the people around him, hoping they will see that he has to be shoved out.
So far the White House has made no official comment. The president will speak within the hour. It won't be easy – he can't begin to say publicly what is being said privately. BBC