Geagea: We are ready to hold early elections to prove Aoun wrong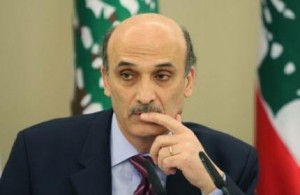 Lebanese Forces leader Samir Geagea said on Wednesday in response to Speaker Nabih Berri that all members of the cabinet that will be headed by Prime Minister-designate Najib Mikati will be required to adhere to the principles of the March 8 coalition.
"Speaker Nabih Berri has always been subtle, but the members of a new cabinet are being asked to fully abide by March 8's convictions in order to participate in the cabinet ," Geagea said, in response to Berri's call for involving all parties in the new cabinet.
Geagea said during an interview that Berri's statement and MP Michel Aoun's Tuesday statement don't match
"It has been clearly shown by Aoun that the new cabinet will be loyal to Syria, Hezbollah and March 8 principles." Geagea said
He said that Aoun's recent statements contradict his past ones, "in which he used to stress that all parties should take part in the cabinet."
He also rejected Aoun's statement that the results of the 2009 parliamentary elections – in which March 14 won the majority of seats – were falsified.
"The 2009 elections were clean…and if Aoun assumes that he now has the majority, we are ready to hold early elections to prove him wrong ."
Similarly MP Sami Gemayel who represents the Phalange party in the parliament called last week for early parliamentary elections stressing that this will be the best democratic solution for ending the current crisis.
"I call for early parliamentary elections, let the people say their word," Gemayel said adding "this will be the best democratic solution for the current crisis and will put an end to the street violence ".
"Our position as March 14 is to either for all of us to participate in the new cabinet or to not participate at all," Geagea said, reiterating March 14's commitment to the Special Tribunal for Lebanon (STL) and the limitation of non-state weapons.
Aoun on Tuesday questioned whether March 14 should be given a blocking third of seats in Mikati's new cabinet, saying the country should not return to political paralysis.
The Iranian and Syria-backed Hezbollah brought down Hariri's government on January 12 over the Special Tribunal for Lebanon's (STL) indictment which is widely expected to implicate Hezbollah members in the assassination of former PM Rafik Hariri in 2005 .
MP Najib Mikati, backed Hezbollah and its March 8 allies including Jumblatt , was appointed last Tuesday by president Michel Suleiman as PM-designate to form and head the next cabinet , giving Hezbollah and its allies increased leverage in the country and provoking widespread protests.
The March 14 alliance is demanding that Mikati, a political moderate with good ties to Syria, guarantee he will not disavow the tribunal.