U.S. wants an overhaul, not an overthrow, in Egypt
U.S. officials didn't object Saturday to Egyptian President Hosni Mubarak's government reshuffle but made it clear they want to see far more change in the days ahead.
A senior administration official said the United States is looking for "'managed change' – adjustments over a fairly extended period of time that allows you to manage it in a fairly orderly way."
While the administration is pressing for the opposition groups and civil activists to be given more political influence, "that doesn't necessarily mean the governing coalition will be swept away, not at all," the official said.
He contrasted managed change with what happened in 1979, when the U.S. backed the shah of Iran until his government was swept away and it produced "something that was unexpected and in many respects much worse than what it replaced."
The official, who said he was not authorized to speak publicly, said it remained unclear where the Egyptian military is coming down in the contest between Mubarak and the opposition.
While Washington has been sharpening the pressure on Egypt – including a threat to withdraw its $1.5 billion in aid – the dialogue between the two sides "is not disagreeable. We're a friend of Egypt," he said.
Publicly, the Obama administration called for Mubarak to make "real reform" in his government, but voiced no objection to his decision to appoint a new vice president and Cabinet.
The State Department's chief spokesman, Philip Crowley, said in a Twitter message Saturday morning that the Egyptian government "can't reshuffle the deck and then stand pat. President Mubarak's pledging reform must be followed by action."
Soon afterward, Mubarak named his intelligence chief, Omar Suleiman, as vice president, a post that has been vacant during his 29-year tenure.
U.S. officials have worked on a number of projects with Suleiman, and they appeared to react positively to his appointment.
As the demonstrations have gathered force in recent days, the Obama administration has been struggling with the delicate task of prodding Mubarak toward change while trying to avoid completely alienating an ally of three decades.
President Obama's aides met for two hours on Saturday at the White House to discuss the crisis. The meeting was led by National Security Advisor Tom Donilon, and included Vice President Biden and Secretary of State Hillary Rodham Clinton by telephone.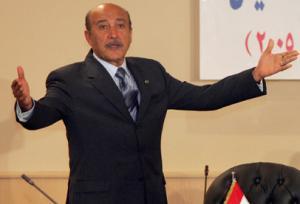 Robert Danin, a former U.S. official with the Council on Foreign Relations, said it appeared that Mubarak was strengthening his ties to the military with the appointment of Suleiman and other new officials.
"He's securing his base," said Danin, a specialist on Mideast issues.
He said the administration was sensible to avoid condemning Mubarak's move, because the question of what will be done with a reconstituted government remains unanswered.
He noted that Mubarak's choice of a vice president has stirred speculation that the president – 82 years old and ill – may be preparing to step down.
The senior administration official said Egypt can't go back to the old way of government.
"Change is coming, in some form," he said.
By: By Paul Richter