Clinton calls for democracy in Egypt, not Mubarak's ouster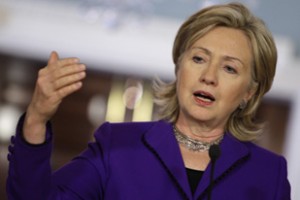 US Secretary of State Hillary Rodham Clinton called for "real democracy" in Egypt and praised the "great outpouring of desire" expressed by protesters there. But did not call for the ouster of President Hosni Mubarak, whom she acknowledged on Sunday has been an important ally.
Appearing on all the major talk shows Sunday morning, Clinton sought to clarify the Obama Administration's position on civil unrest in Egypt and on Mubarak, who has ruled Egypt for 29 years as a dictator. She offered support to the pro-democracy movement there but declined to say if Mubarak should step down, saying it was "up to the Egyptian people" to decide who should lead their country.
On ABC's This Week, Clinton said that under Mubarak Egypt has been a "partner in achieving historic peace with Israel [and] a partner in trying to stabilize a region that is subject to a lot of challenges."
At the same time, she said, the United States has always pushed for democracy in the country even as it has worked with Mubarak.
"And by that I mean real democracy, not a democracy for six months or a year and then evolving into essentially a military dictatorship or a so-called democracy that leads to what we've seen in Iran," Clinton said.
"Any government that does not try to move in that direction cannot meet the legitimate needs of the people," she said. "People are not going to stand by any longer and not be given the opportunity to fulfill their own god-given potential."
It is a delicate balance for the administration, one that is becoming more difficult to strike by the day. The protests have in some cases turned violent and given cover to looters, and Mubarak has taken steps that suggest he intends to try to stay in power power. Protesters have expressed frustration not only about their own government but about the United States, whom they believe has helped prop up Mubarak's dictatorship over the years.
The Administration has sought to adapt to the rapidly shifting landscape, at times offering contradictory messages. Vice President Joe Biden last week said he did not believe Mubarak should step down, while Clinton described the Egyptian government as stable. On Sunday, Clinton declined to reiterate either position and on NBC's Meet the Press called the situation "volatile."
On CNN's State of the Union, Clinton said that despite reports of violence the Egyptian Army has exercised laudable restraint, cracking down on looters while allowing peaceful protests to go forward. She urged for a peaceful resolution to the conflict and said upcoming elections could be a first step in what she said should be a careful, deliberative process toward democracy.
"Egypt is a large, complex, very important country. I don't think the Egyptian people want to see what is a very clear effort to obtain political and economic rights turn into any kind of new form of oppression or suppression or violence or letting loose criminal elements. That's not what they're in the streets protesting for," she told host Candy Crowley.WP