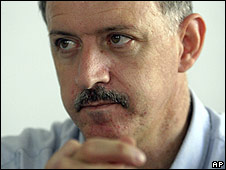 An Israeli court on Sunday sentenced an Arab-Israeli activist who confessed to spying for Lebanon's Hezbollah militants to nine years in prison.
Amir Makhoul pleaded guilty in October to contacting a foreign agent, conspiring to aid an enemy in time of war and espionage. The top charge — of aiding an enemy — was dropped when Makhoul agreed to the plea bargain of between seven to 10 years. He faced a potentially much longer sentence had his case gone to trial.
Court documents said Makhoul used encryption software to send Hezbollah information about Israeli military facilities and defence capabilities. Hezbollah operatives also asked Makhoul to locate the residence of the head of Israel's internal security service, the Shin Bet, according to the documents.
Shin Bet officials said Makhoul also passed along information about Israelis believed to be vulnerable to recruitment by Hezbollah.
Israel and the Iranian-backed Hezbollah are bitter enemies. Hezbollah formed in the early 1980s to fight Israeli troops who invaded and occupied southern Lebanon from 1982 to 2000. The two foes also fought a monthlong war in 2006.
The case against Makhoul, a prominent pro-Palestinian activist whose brother served in Israel's parliament, has strained relations between Israel and its Arab minority.
Arabs make up about 20 per cent of Israel's 7.5 million citizens. They enjoy full rights but complain of decades of discrimination. In recent years, many have become radicalized and increasingly critical of Israeli policies against Palestinians.
"It is a difficult day today for all of us because Amir was one of the key people among the Palestinians inside the Green Line, with a very strong voice against (Israeli) state violence against Palestinians," said his attorney, Hussein Abu Hussein.
Abu Hussein told The Associated Press that Makhoul agreed to a plea bargain because when Palestinians face security-related charges in Israeli courts, the chances for a fair trial are "nonexistent." He said Makhoul was vulnerable to prosecutors after being held in jail without access to counsel, doctors or his family.
Makhoul claimed he fell into a "trap," and that he was being prosecuted as a political reaction to his work exposing human rights violations by Israel.
In recent years, several Israeli Arabs have been arrested for spying for Hezbollah, a fierce enemy of Israel suspected of involvement in bloody attacks against Jews outside the region as well.
In another high-profile case, lawmaker Azmi Bishara fled the country four years ago to avoid facing similar espionage charges. Living in exile, he has since become a frequent participant in Arabic TV panels, heaping scorn and criticism on Israel and its policies toward Palestinians.CP