SSNP MP calls for ending sectarian incitement in Lebanon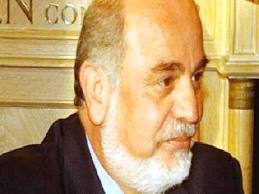 Syrian Social Nationalist Party ( SSNP) leader MP Assaad Hardane called for ending sectarian incitement said on Thursday following his meeting with Prime Minister-designate Najib Mikati over the cabinet formation.
"The role of any future government should be maintaining civil peace and ending sectarian incitement. " He said and added:
"It is important that the new cabinet answers the citizens' questions."
He also called for reforms :
"The new cabinet is on the verge of carrying out reform and political workshops".
The MP stressed the importance of approving an electoral reform law as agreed upon in the Taef Accord "
When asked about Palestinian arms in Lebanon, Hardane who is a stanch supporter of Syria which backs the Palestinian factions that have armed bases outside the camps called for "dialogue with Palestinians while taking into consideration Lebanese and Palestinian interests."
He also voiced the importance of resolving social problems in Palestinian camps.
Mikati began consultations over the cabinet formation Thursday . The consultations are expected to end Friday .
Mikati, backed by Hezbollah and its March 8 allies , was appointed Tuesday by president Michel Suleiman as PM-designate to form and head the next cabinet , giving Hezbollah and its allies increased leverage in the country and provoking widespread protests.
Hezbollah brought down Hariri's government on January 12 over the Special Tribunal for Lebanon's ( STL) indictment which is widely expected to implicate Hezbollah members in the assassination of former PM Rafik Hariri in 2005 .