Jumblatt: Lebanon is not Tunisia, different from all others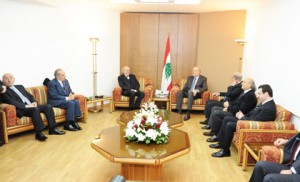 National Struggle Front ( formerly Democratic Gathering) bloc leader MP Walid Jumblatt said on Thursday following his bloc's meeting with Prime Minister-designate Najib Mikati.that "the U.S. should allow the Tunisian and Egyptian people to decide their own fate and let us make our own decisions in Lebanon because Lebanon is not Tunisia, it is different from all other countries, what's important is to maintain dialogue in the country.
"We do not want advice from the US," he said
Jumblatt voiced the importance of democracy and not taking to the streets.
"It is important to avoid issuing inciting statements that jeopardize the country's security," Jumblatt said, adding that it is the politicians' responsibility to respect the Lebanese people's will.
Jumblatt, who went from being an ally of Hezbollah to one of its most outspoken foes to ally again gave Mikati the votes needed to defeat outgoing PM Saad Hariri during the consultations over the selection of a new PM to lead the new cabinet
Mikati, backed by Hezbollah and its March 8 allies , was appointed Tuesday by president Michel Suleiman as PM-designate to form ano defeatd head the next cabinet , giving Hezbollah and its allies increased leverage in the country and provoking widespread protests.
Hezbollah brought down Hariri's government on January 12 over the Special Tribunal for Lebanon's ( STL) indictment which is widely expected to implicate Hezbollah members in the assassination of former PM Rafik Hariri in 2005 .