Baath MP calls for protecting Hezbollah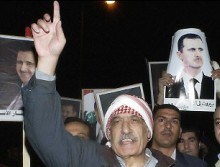 Baath Party MP Assem Qanso called forming a national rescue cabinet and for protecting the Resistance ( Hezbollah) . He said after meeting with Prime Minister-designate Najib Mikati:
"We are hoping for a national rescue cabinet that responds to the Lebanese people's demands," and added : "We called for the protection of the Resistance and for reform."
Qanso who is a staunch ally of Syria also called for ending the street protests over the nomination of Mikati :
"Violence should be taken out of the streets to prevent any turbulence on the Lebanese scene." He said
In interview with AFP on Tuesday Mikati confirmed that he was nominated by Hezbollah only to protect the resistance,( in reference to Hezbollah.)
"My nomination by Hezbollah does not make me committed to any political stance other than protecting the Resistance." Mikati said
Mikati, backed by Hezbollah and its March 8 allies , was appointed Tuesday by president Michel Suleiman as PM-designate to form and head the next cabinet , giving Hezbollah and its allies increased leverage in the country and provoking widespread protests.
Hezbollah brought down Hariri's government on January 12 over the Special Tribunal for Lebanon's ( STL) indictment which is widely expected to implicate Hezbollah members in the assassination of former PM Rafik Hariri in 2005 .