Hezbollah MP: We set no conditions for Mikati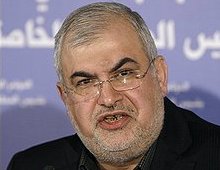 Hezbollah's parliamentary bloc leader MP Mohammad Raad called for a national unity government and for ending slogans and unrealistic statements . He said on Thursday after meeting with Prime Minister-designate Najib Mikati.
"We call for a national rescue and national unity cabinet where everyone cooperates in favor of Lebanon's interest," and added :"We set no conditions for Mikati and did not ask for specific ministries."
"Enough slogans and unrealistic sayings, we are heading towards a new stage," he added
Mikati, who was March 8's candidate for the premiership, began consultations on cabinet formation Thursday following his Tuesday appointment.
Radd's statement comes after the Future Movement MPs asked Mikati to clarify his stance on the Special Tribunal for Lebanon (STL) and the illegal weapons ( Weapons outside the control of the Lebanese army) .