Egypt stock market fell over 6 % over protests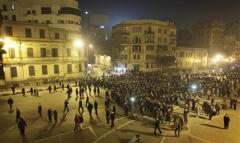 Egypt's benchmark stock index fell to its lowest point in eight months on Wednesday, tumbling more than 6 percent as investors fled the market a day after massive protests engulfed the country's capital and other cities in what emerged as one of the most serious challenges to the government in years.
The market's plunge spotlighted potential challenges confronting Egypt and its efforts to appease investor concerns in the wake of the unrest in Tunisia earlier this month that led to the ouster of that nation's longtime president.
The Egyptian Exchange's benchmark EGX30 index closed down 6.14 percent to 6,310.44 points — just shy of its previous record drop of 6.2 percent in May, according to traders. The broader EGX70 index fell 10.44 percent in a session that offered investors their first chance to react to the protests on Tuesday, which was a national holiday honoring the police force.
"The market opened in a panic," said Ahmed Hanafi, a broker with Guthour Trading. "It's been a while since we've seen these numbers. The reaction on the market has been very negative to the protests." AFP