Saudi Arabia urged its citizens to avoid Lebanon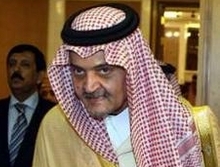 Saudi Arabia has urged its citizens not to travel to Lebanon these days because of unstable political condition in the country.
"Considering ongoing developments in Lebanon, we would like to advise Saudi citizens not to travel to that country during this period until peace and stability return to the country," the Foreign Ministry said in a statement carried by the Saudi Press Agency.
Lebanon is a popular destination for Saudis, particularly in the summer. Some 191,000 Saudi tourists visited Lebanon in 2010, according to the Lebanese Tourism Ministry.
Lebanon has been going through a tense period since Hezbollah toppled Saad Hariri's government two weeks ago and secured enough support in Parliament to name its own pick for prime minister Tuesday.
On Wednesday, The Associated Press quoted Fares Soueid, a senior official with the March 14 coalition, as calling on the Lebanese to gather peacefully every evening, holding Lebanese flags, at Martyrs Square in downtown Beirut. Arabnews