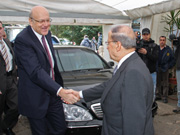 Prime Minister-designate Najib Mikati met Wednesday with all former prime ministers, including outgoing Prime Minister Saad Hariri to consult with them prior to forming the new Lebanese government
The protocol dictates that the PM-designate should meet and consult with former prime ministers prior to forming the cabinet .
Mikati visited and met with the following former prime ministers as part of the protocol: Saad Hariri , Fouad Siniora Rashid el Solh, Omar Karami and Michel Aoun
Siniora, who is the current Lebanon First bloc leader said we will have to wait and see if future actions of Prime Minister-designate will be unbiased or not but stressed that Mikati is definitely Hezbollah's candidate following his protocol meeting with him.
This was a possible response to the statement made by Hezbollah chief Hassan Nasrallah who said yesterday during a TV appearance via video link: "Saying that he ( Mikati) is Hezbollah's candidate is a sectarian incitement."
When asked if the Future Movement will participate in the cabinet to be formed by Mikati, Siniora said, "we will make the suitable decisions at the suitable time."
Mikati, backed by Hezbollah and its March 8 allies , was appointed Tuesday by president Michel Suleiman as PM-designate to form and head the next cabinet , giving Hezbollah and its allies increased leverage in the country and provoking widespread protests.
"Whoever killed Rafik Hariri in 2005 doesn't want Saad Hariri to be in power," Hariri said Wednesday during an interview with the New York Times, in reference to Hezbollah which is backed by Iran and Syria.
"What's happening today is that they are trying to achieve what they wanted to achieve in 2005," Hariri added in reference to the coup that brought down his government
Mikati did confirm yesterday that he was nominated to protect Hezbollah. He told AFP on Tuesday : "My nomination by Hezbollah does not make me committed to any political stance other than protecting the Resistance." This was a possible reference to Hezbollah's five point plan.
Hezbollah brought down Hariri's government on January 12 over the Special Tribunal for Lebanon's ( STL) indictment which is widely expected to implicate Hezbollah members in the assassination of former PM Rafik Hariri in 2005 .
According to analysts the issue in Lebanon is not who is Mikati as much as how did Mikati get nominated and by whom.
Syria praises Mikati
Syria's daily Al-Watan, which is close to the Damascus government, on Wednesday expressed its support for Mikati and said he would bring change to the region.
"Najib Mikati is the man appointed to form a new government in Lebanon … which will herald changes in political life in Lebanon and around the region." The paper said
"More importantly, Lebanon has uncovered the grand plot and dangerous deceptions hatched by Western parties and their proxies within the country," the paper added in reference to STL.
US cautious
The United States is reportedly reconsidering economic and military support for Lebanon after Hezbollah won a prominent role in the government
Secretary of State Hillary Clinton said Tuesday that a Hezbollah-dominated government would affect the country's relations with the U.S., which views the Iranian- and Syrian-backed militia as a terrorist organization. The United States has imposed sanctions against the group and its members, with whom U.S. officials are barred from meeting.
Photo: Prime Minister-designate Najib Mikati met Wednesday with all former prime ministers, including Hezbollah's ally . MP Michel Aoun to consult with them prior to forming the new Lebanese government