Suleiman appoints Hezbollah's Mikati as PM designate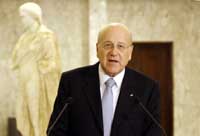 Lebanese President Michel Suleiman appointed Hezbollah's candidate Najib Mikati as the Prime Minster designate to head the new government.
Mikati received the backing of 68 lawmakers, a majority in the 128-seat assembly, to 60 for caretaker premier Saad Hariri.
The Presidential palace announced that Suleiman has invited Mikati to Baabda and asked him to form the new government.
Mikati's probable appointment has sparked widespread anger within the Muslim Sunni community. It is seen as a bid by the Iranian- and Syrian-backed Hezbollah to undermine the Sunnis and sideline Hariri, their most popular leader in Lebanon, and essentially take control of the government.
Caretaker PM Saad Hariri said yesterday that the Future Movement will refuse to participate in any government headed by the candidate of the Hezbollah-led March 8alliance
He also said "that all the talk of ( Mikati being ) a compromise candidate is an attempt to throw dust in the eyes…. there is no such thing as consensus candidate"
Lebanese president Michel Suleiman will reportedly refuse to sign off on any one color cabinet that is not a national unity government , according to presidential sources, but Speaker Nabih Berri, Hezbollah Shiite key ally revealed that Mikati once officially designated will form a national salvation government instead of a national unity government, after the announcement of the Future Movement and the March 14 that they will refuse to join any government that is not headed by Hariri .
Mikati , 55 pledged on Monday to set up "a government that encompasses everyone" if he wins the nomination.
Demonstrations in support of Hariri continue to rock the country. His supporters called  Tuesday a "day of rage"   against what they described as a coup by Hezbollah. The army stepped up security measures.
Outgoing Caretaker Prime Minister Saad Hariri condemned the rioting and called on protesters to restrain themselves in a speech to the nation on Tuesday afternoon.
"When you decided to call for a 'day of rage', your motive was the expression of a democratic stance, which we believe is a peaceful path that we cannot abandon," Hariri told protesters.
Hariri warned his supporters not to fall prey to incitement, asking them "not to give anyone an excuse to take to the streets."
"Our goal is not power, nor is it the premiership. Rather, our goal is always to protect the state from hegemony."
"Today you are responsible for Lebanon's safety and the safety of coexistence among the Lebanese." He said